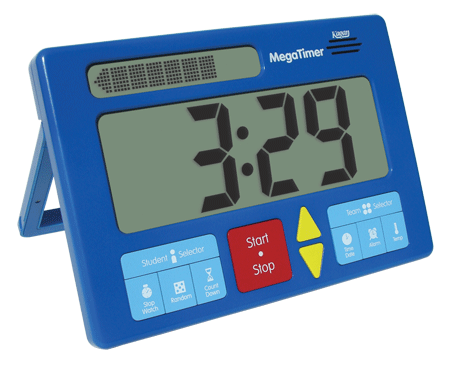 MegaTimer
A Jumbo Timer Designed Just for Teachers!
Jumbo timer display.
8 great teacher tools in one!
Randomly selects students and teams to keep everyone challenged and engaged.
Provides equal turns so everyone participates!
Keeps students on time and on task!
What aspects of this product did you like most?
I loved the fact that the timer was large enough for the back of the room to see! I also liked the ability to use batteries or plug the timer into the wall.
This product was very user friendly. The directions were clear and easy to follow. The display was large enough that the whole class could see it.
I loved the size of the timer and the ease in which you can use it. I love the multiple settings that you can choose for various activities.
The instructions were very clear and concise. I figured out how to work the timer in minutes with the instruction book. The large numbers for the students to see were excellent, as well as having the backlight. The option of using electricity was also another plus, as batteries get costly! The volume adjustment was good to have for different classes. I liked the different modes, which was helpful as a teaching tool. The timer is quite sturdy.
How did you make use of the product, or integrate it into your lesson plans?
I already have the Kagan overhead timer so my class was familiar with viewing a timer and hearing a beep. I use the timer to control time in my classroom while we are working in partners, choosing corners, searching for answers, or for any time-eating strategy.
I am getting ready to teach probability and can't wait to use the dice roller and student chooser. The kids were fascinated with the timer and anxious for me to use it to pick students to answer! They loved the timer, and because of their fascination, they responded well to it!
I used the timer in lots of group activities. The display was large and all the students knew how much time was left while working. The alarm was also used to let students know when time was up for an assignment. The stopwatch was used in timed assignments to see who could complete a project the fastest.
I used the timer in every class of the day, whether cooperative learning, independent activities, silent reading, cubby and bookbag packing, etc. The use of the timer kept us focused and on track. It allowed us to maintain a pace where we could accomplish our goals for the day.
I use the timer for almost everything I do. Any type of group work or individual work needs a timer. This timer was helpful because students could see how much time was left on what they were working on, versus asking me repeatedly how much time was left. It was also helpful that the timer did not tick. The random mode with numbers up to 9999 is great for a quickie math lesson when you have a few minutes of class left.
I used it while incorporating it into the cooperative learning structures of Kagan. We used it daily for choosing groups to participate.
What skills did your students learn from this product?
My students quickly learned time management from the timer, and got a realistic idea of time spans. They learned to cooperate and work together if they want to be successful within the time constraints given!
They learn quickly that everyone has the potential to be selected from the computer selection feature on the timer, which promotes participation.
They were better able to manage their time while working. It helped keep them focused since they could see the time ticking away.
My students were able to pace themselves better using the timer. They could see how much time they had left to complete an assignment.
The students learn to be accountable for their choices by completing what they need to do in the time allotted. They also gain an appropriate sense of time and how to use it wisely.
I think that time management is one of the most useful tools a student gets with the use of timer. Since the student could see the timer, it helped them realize that they needed to hustle or to continue at the pace they were using. I think this is very helpful in getting students ready for the timed EOG tests. The students also had to be on their toes when we used the random mode.
They learned to take turns. They also enjoyed reading the digital clock since the traditional clock is hard for some to read.
If funds were available, would you recommend this product to another teacher at the appropriate grade/age level? Please explain why or why not.
Absolutely, positively YES! I like both my overhead timer from Kagan and this MegaTimer! Every teacher needs a timer that will promote time management within the classroom. This timer extends that with the student selector feature and the dice roller. This is a great tool for a fair and productive classroom.
I would recommend this product to teachers of any grade level. It is easy to use and aids in keeping students on task.
I would recommend this product to a variety of grades and age level. This product could be used in a lot of different situations, curriculums, and subjects. The MegaTimer has numerous uses for timing, picking students or teams fairly, and many more uses.
Most definitely! I really need to be aware of time because I try to multitask and lose track of time. I also have a tendency to allow discussions for explanations to continue on and overtake our time. The use of the timer allows me to remain focused on the goals at hand and complete tasks, as well as daily curriculum goals. I then have time to work individually with students who are still struggling.
Yes, I would love for the school to buy all of the teachers this timer. It is so helpful for the teacher as well as the student. It helps us all with time management. It is also helpful as a large clock that everyone can see!
YES!!!!! It's appropriate for all grades.
Back