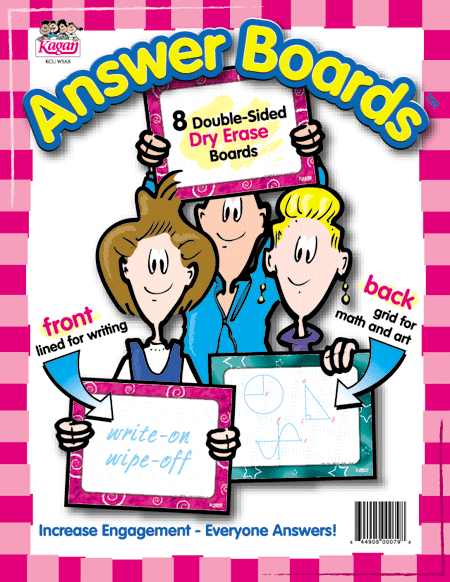 Answer Boards
8 Double-Sided, Write-On, Wipe-Off Dry Erase Boards
Increase engagement in your classroom. When you ask your students a question, is it better to have one student answer, or have all students answer? Great for everyday questions and answers. Perfect for Kagan Structures such as: Numbered Heads Together, Showdown, Find-the-Fiction, Pairs Compare, and many more. You'll make learning more fun while keeping all students actively involved. AnswerBoards measure 8.5" x 11" and are double-sided: lines on front for writing and a grid on the back for drawing or graphing. Try them. You and your students will love them. Use with Kagan's dry erase markers and erasers.
Double-Sided AnswerBoards
Front Lined for Writing

Back Grid for Math and Art
AnswerBoard Tips
Erase Before Storage
Have your students or participants erase their AnswerBoards before you (or they) store them away. Dry ink is more difficult to erase than wet ink. Plus, the boards will be nice and clean for next time.
Use the Wet Ink Trick
If you, your students, or participants are having difficulty erasing dried ink, try this simple trick. Scribble a little wet ink over the dry ink. This will make the ink easy to erase. You don't have to write exactly over the old ink; just scribble with wet ink in that area and erase right away.
Try Another Color
Because of its composition, black ink sometimes takes a little more effort to erase. If your students or participants are having any difficulty erasing their AnswerBoards, substitute blue, red, or green for black.
Simple Solutions
If your AnswerBoard has old, dried up ink or someone used a non-dry erase marker, try this: Moisten a washcloth, sponge, or paper towel with water and wipe the board clean. If that still doesn't remove that stubborn ink, try Windex, a Mr. Clean Magic Eraser, or a commercial dry-erase solvent available at most teacher and office supply stores.
Back