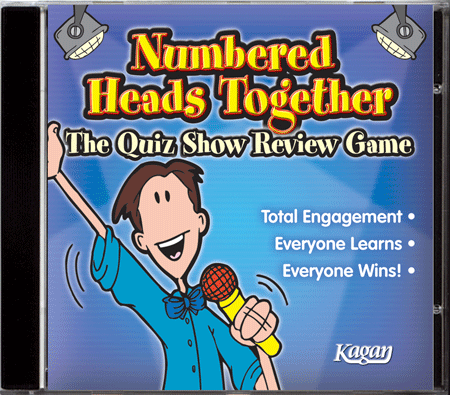 Numbered Heads Together™ Software
The Quiz Show Game for Teams
Reviews any curriculum in an exciting, game show format.
Easy to use software and class review game. Easy to input and save questions.
A great teamwork tool! Students enjoy putting their heads together to play and learn.
Virtually runs itself!
Teacher reviews from Corbett Preparatory School of IDS in Tampa, FL.
Kids love game shows and playing along.
Program was great!
Kids love it and we have a good time. Thanks a lot!
I use it to review for social studies tests.
It's a great game and easy to make new games. My first graders enjoy anything that's a game - I just wish I could paste pictures in it for money and time games. I have made a money game using written amounts - 2 dimes and 4 nickels. I have also made a story problems game and a famous American game. I make the students write their answers on a white board, then compare them with their team. They must decide to keep their answer or change it.
Back