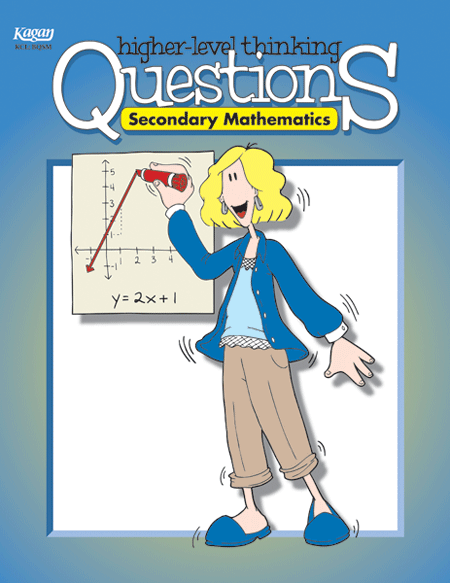 Secondary Mathematics
Higher-Level Thinking Questions
Hundreds of ready-to-use thinking questions on 16 Secondary Mathematics concepts, including problem solving, decimal operations, fraction concepts, Algebra, Geometry and more.
Questions are crafted to generate critical and creative thinking in Secondary Mathematics.
Includes reproducible prompts for journal writing and activities for student-generated questions.
Questions are provided in convenient reproducible question card format, perfect for engaging cooperative questioning and analytical thinking.
The mathematics standards call for moving beyond memorization, rote learning, and application of predetermined procedures. The standards call on teachers to work toward a deeper conceptual understanding and to foster mathematical reasoning. How do we foster such a deep understanding of mathematics concepts? With deep-thinking math questions, of course. You'll find questions for sixteen mathematics topics to promote mathematical thinking and interaction in your class. Question topics: Problem Solving; Number Patterns and Relationships; Whole Number and Decimal Place Value; Decimal Operations; Fraction Concepts; Fraction Addition and Subtraction; Fraction Multiplication and Division; Percents; Relating Fractions, Decimals, and Percents; Ratios, Rates, and Proportions; Statistics, Data Analysis, and Graphing; Algebra: Integers and Integer Operations; Algebra: Solving Equations and Inequalities; Geometry Concepts; Geometry and Measurement; Probability.
Sample Page
Click on the image to view and/or print it full size.
Table of Contents

Back