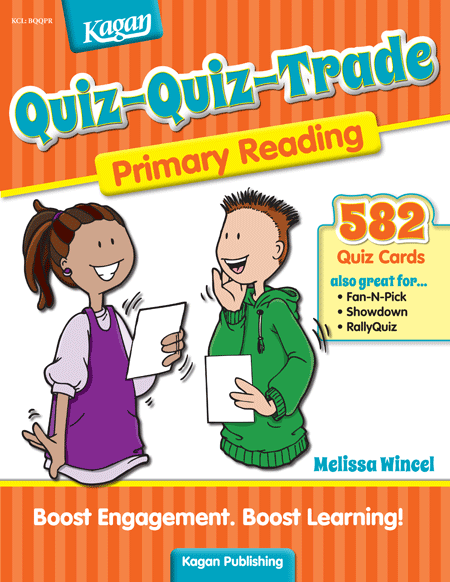 Quiz-Quiz-Trade: Primary Reading
Repeated practice boosts basic reading skills!
Transform pre-reading skills into an interactive game that students love!
Quiz cards are also great for other engaging structures including Fan-N-Pick, Showdown, and RallyQuiz.
Help your little ones acquire the basic skills they need to read using Quiz-Quiz-Trade. This interactive structure has students quizzing each other on a range of early reading skills. Students each receive a quiz card to quiz a partner. In the Syllables set, students clap or tap out the number of syllables they hear when they say the name of the item pictured on the card: al-li-ga-tor. Four syllables! There are sets for sounding out beginning sounds, middle sounds, and ending sounds. There's a set on building CVC words. There's a set for blending the sounds of the letters to read words: sh-ar-k. Using these 15 sets, students progress from simple skills to reading simple sentences to combining simple sentences. 232 pages.
Quiz-Quiz-Trade is a student favorite! This Kagan Structure turns need-to-know reading curriculum into a fun and interactive quizzing game. The repeated practice boosts retention of the content.
Card sets in this book...
Stomp Those Syllables!
Tune Up Your Ears!
Rhythm of Rhyming
Bravo! Beginning Sounds
Middle Sound Mania
Encore! Ending Sounds
Contraction Action
Letters, Letters, Everywhere!
Building CVC Words
Blend It!
Listen Up! Long Vowel Sounds
I Can Read!
Combining Simple Sentences
Similar Meanings
Identifying Sentence Parts
Subject & Predicate Noun, Verb & Adjective
Sample Pages
Click on an image to view and/or print it full size.
Table of Contents