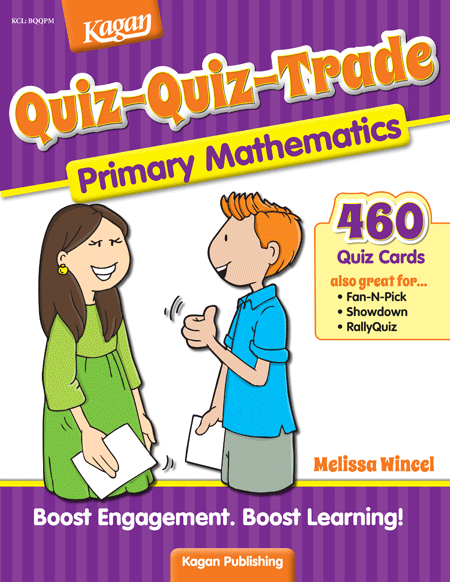 Quiz-Quiz-Trade: Primary Mathematics
Repeated practice boosts retention of basic math skills!
Transform need-to-know mathematics curriculum into an interactive quizzing game that students love!
Quiz cards are also great for other engaging structures including Fan-N-Pick, Showdown, and RallyQuiz.
Sitting and keeping focused for lengths of time can be a challenge for little ones. Don't despair, Quiz-Quiz-Trade is here. You can create amazing learning while students are up and interacting with classmates. Each student receives a quiz card. For example, with the Shape Safari set, one student receives a triangle card. She pairs up with another student and asks the question: "What shape is this?" After her partner answers, she asks: "How many sides does it have?" After the partner answers, she asks: "How many vertices does it have?" After students quiz each other both ways, they trade cards and find a new partner to quiz. The repetition makes the content stick. The interaction makes the activity fun for all. The book includes 15 different sets on need-toknow primary math content including: adding, counting, measuring, shapes, fact families, fractions, double digits, graphing, and more.
Quiz-Quiz-Trade is a student favorite! This Kagan Structure turns need-to-know reading curriculum into a fun and interactive quizzing game. The repeated practice boosts retention of the content.
Card sets in this book...
Count It Out!
More, Less, or Equal
Sum or Difference
Decomposition
Place Value
Measuring Marvels
Be on Time!
Analyze It!
Expand It!
Shape Safari
Missing Fact Family
Let's Compare
Fabulous Fractions
Adding without Regrouping
Double Dash
Balancing Act
Sample Pages
Click on an image to view and/or print it full size.
Table of Contents