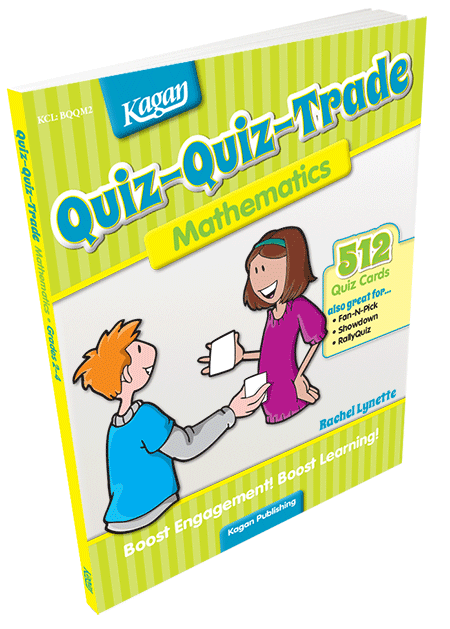 Quiz-Quiz-Trade: Mathematics
Ready-to-use quiz cards!
Teach need-to-know math curriculum with an interactive game that students love!
Quiz cards are also great for other engaging structures including Fan-N-Pick, Showdown, and RallyQuiz.
Quiz-Quiz-Trade is one of students' favorite Kagan Structures. Your students learn needto- know curriculum in a fun and energizing format. Students each receive a quiz card. They pair up and quiz both ways, then trade cards and find a new partner to quiz. Each time they have a new partner and a new quiz question. Keeps everyone engaged! Students love it and once students learn this simple structure, the practice sessions run themselves. Ready-to-use card sets include: balancing the equation, regrouping, time, elapsed time, candy store math, snack shack math, word problems, test prep, and rounding. 208 pages.
Quiz Card sets in this book...
Balance It! Set 1
Balance It! Set 2
Balance It! Set 3
Candy Store Math Set 1
Candy Store Math Set 2
Elapsed Time Set 1
Elapsed Time Set 2
Equation Challenge
Math Test Prep Set 1
Math Test Prep Set 2
Multistep Word Problems
Multiplication and Division Word Problems
Round It!
Snack Shack Math
Telling Time
Two-Digit Addition and Subtraction Word Problems
Sample Pages
Click on an image to view and/or print it full size.
Table of Contents