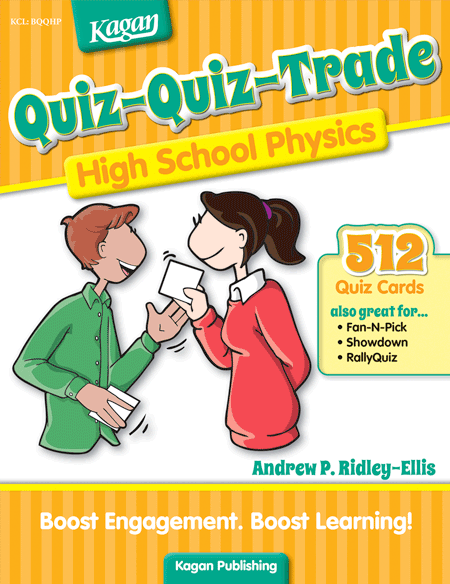 Quiz-Quiz-Trade:
High School Physics
16 ready-to-use physics quiz cards sets
Repeated practice boosts retention of physics curriculum
Transform need-to-know physics content into an interactive game that students love
Includes instructions for additional structures, including Fan-N-Pick and Inside-Outside Circle
Quiz-Quiz-Trade is one of students' favorite Kagan Structures. Your students learn needto- know curriculum in a fun and energizing format. Students each receive a quiz card. They pair up and quiz both ways, then trade cards and find a new partner to quiz. Each time they have a new partner and a new quiz question. Keeps everyone engaged! Students love it and once students learn this simple structure, the practice sessions run themselves. Ready-to-use card sets include: balancing the equation, regrouping, time, elapsed time, candy store math, snack shack math, word problems, test prep, and rounding. 208 pages.
Quiz Card sets in this book...
energy
electricity
electromagnetism
magets and static electricity
forces and interactions
forces and motion
atomic structure
radioactivity
particle model
waves
electromagnetic spectrum
light
Earth
our solar system
space and the universe
discoveries in physics
Sample Pages
Click on an image to view and/or print it full size.
Table of Contents