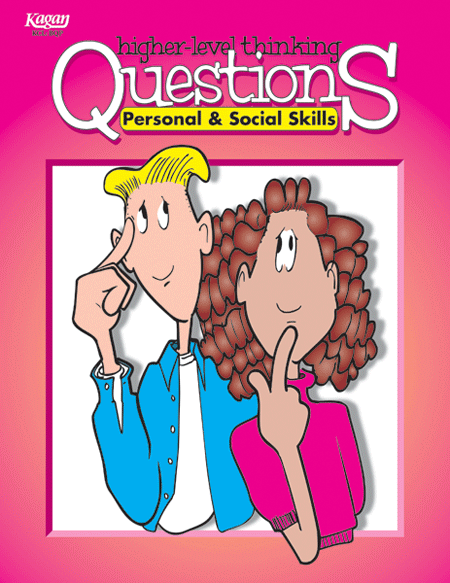 Personal & Social Skills
Higher-Level Thinking Questions
Stretch your students' minds with questions that release natural curiosity about personal & social skills.
Hundreds of ready-to-use thinking questions on 16 of the most popular personal & social skills topics.
Questions are provided in convenient reproducible question card format, perfect for engaging cooperative questioning and analytical thinking.
Includes reproducible prompts for journal writing and activities for student-generated questions.
Stretch your students' interpersonal and intrapersonal intelligences with these ready-to-use questions and activities. This book is brimming with questions on topics such as: All About Me, All About School, Esteem Building, Emotional Intelligence, Lying, Manners, Multiple Intelligences, My Favorites, Sticky Situations, and more! Questions are designed to promote higher-level thinking and interaction on a range of personal and social skills issues: "If you could be anyone else for a day, who would you be? Why? Who is your favorite musical group? If you were going to write a magazine article about the band, what would you say? Attitudes are contagious. Do your friends drag you down or bring you up?" Questions are provided in convenient reproducible question card format, perfect for a variety of engaging cooperative discussion formats provided and journal writing. Boost your students' EQ with these provocative questions and activities. 160 pages.
Sample Pages
Click on an image to view and/or print it full size.
Table of Contents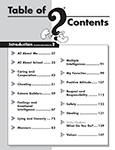 I have had a hard time tracking this book down! I purchased this book and immediately other teachers starting borrowing it! I finally realized that keeping track of it was going to be difficult so I ran off card sets for teams on card stock, laminated them and had students cut them out and bundle them into team sets of cards. I did this for each set of questions and now I have them ready to go whenever I want to use the questions. I just keep hoping that someone will return my book soon so that I can begin to use some of the blackline masters for individual worksheets. Maybe I need to chain it to my desk?
I can see how this book could transform a classroom into a civil, kind, caring place to live and learn. I purchased this book because I wanted to be able to give students the tools they needed to help me foster a more pleasant classroom to come to each day. It has certainly turned into that sort of place for me and for the students.
Because of the great questions this book contains, children have had practice in using personal and social skills that will take them far in life. Thanks again!
Back