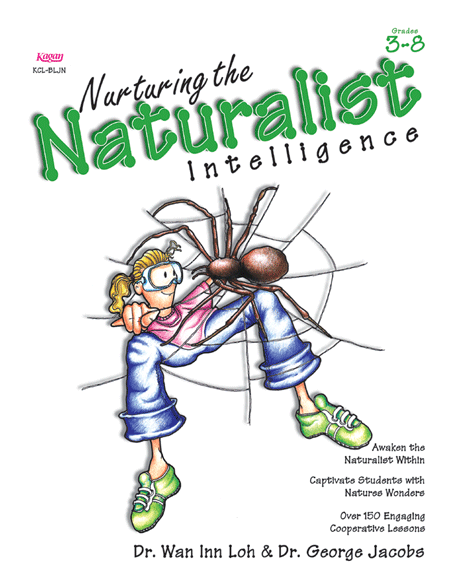 Nurturing the Naturalist Intelligence
BLJN • $34
Why don't spiders stick to their own webs? Why do animals play hide and seek in nature? Who are nature's cleaners and what do they do? Develop students' eighth intelligence—the naturalist intelligence. This giant collection of hands-on, minds-on interactive lessons will give you plenty of content and ready-to-use activities and blackline masters to awaken students' inquisitiveness about the natural world. Units cover cooperation and interdependence, pollinators' role in the web of life, nature's recycling process, food, trees, water, animal survival and adaptation, spiders, and individual uniqueness. Whether you're looking for a complete natural science curriculum or want to supplement your curriculum to nurture students' budding naturalist intelligences, this is your source. 488 pages.
Sample Pages
Click on an image to view and/or print it full size.
Review by Dr. Richard Tracey
SUMMARY
Nurturing the Naturalist Intelligence, by Dr. Wan Inn Loh & Dr. George Jacobs, provides over 150 engaging cooperative learning lessons for Grades 3-8. It captivates students with the wonders of Nature while invoking Dr. Howard Gardner's eighth and newest of his eight Multiple Intelligences – the Naturalist intelligence.
Teachers can rely on Nurturing the Naturalist Intelligence and its nine Nature-based units and over 150 engaging cooperative learning lessons to develop students' knowledge of, and appreciation for, Nature. Cooperative learning materials no longer need to be re-invented for Nature topics. The authors adopt the approach to cooperative learning pioneered by Dr. Spencer Kagan. Following Dr. Kagan's lead, Loh & Jacobs provide page after page of activity ideas and ready-to-use blackline masters that they have proven in their own classrooms to foster the Naturalist intelligence. These instructional strategies are called structures.
Kagan Structures are content-neutral sequences to guide student interactions. As the name structures indicates, these sequences literally structure students' interaction with each other, with the content and/or with the teacher. RallyRobin™ is one of the simplest of over 200 Kagan Structures. It can be used with no preparation and no change in content, at almost any point in any lesson. In brief, during a RallyRobin, students work in pairs and take turns speaking, usually recalling or generating ideas, such as possible alternative explanations for a Natural phenomenon. As simple as they appear, the structures have a profound impact. For example, in a pair discussion, one person may do most or even all the talking; in a RallyRobin, both students participate about equally, ensuring engagement for all students.
While Kagan Structures increase student engagement for any subject across the curriculum, they embed a particularly important proposition into Nature lessons: Learning to work in teams is particularly vital in the interdependent world of Nature. Likewise, the teacher discovers, after using RallyRobin or any other structure just a few times, how easy it is to use the structures repeatedly to generate new activities for any Nature topic.
FROM THE INTRODUCTION BY DR. WAN INN LOH
"Many urban and suburban children have little or no contact with the natural world. Children in today's world have many technological blessings, such as computers, CD-ROMs and video games, but can these take the place of real life experiences with nature?"
"As teachers, it is timely for us to actively encourage our students to develop environmentally and socially appropriate values about nature. We can start by helping children become sensitive to the wonders of nature, learn about the importance of conservation of resources, and understand the interdependence of all life. If we do so, this generation of children will be more sensitive to ensuring an ecological balance when they become adults."
"For the enthusiastic science teacher, we hope the lessons provide new kinds of activities to excite both you and your students. For the less confident or reluctant science teacher, we hope the lessons introduce you to ways to make science challenging, varied, and feasible for you and your students."
"Teachers who have implemented some of the activities in this book have been amazed by the curiosity and interest shown by their students. George and I hope that your students will have the same curiosity and interest in learning about the natural world. We had fun writing the units, and our wish is that you have fun involving your students in doing the activities."
AUTHOR BIOS
Dr. Wan Inn Loh holds a doctorate in Science Education and is a chartered biologist (Institute of Biology, UK). She has taught courses in Biology, Chemistry, Physics, Mathematics, Science Education, Environmental Education, Cooperative Learning, Curriculum Design, and Multiple Intelligences in the U.S., Singapore, Ireland and Australia. She also designs and trains teachers at camps on Multiple Intelligences and science.
Dr. Loh is a member of the Nature Society (Singapore) and the Malayan Nature Society, and she volunteers with the Singapore Environment Council.
Among her books are Sciencing (a primary school science textbook), Thumbs Up for Earth (a book of environmental education lessons for preschoolers) and Science Made Easy (Pearson). As co-author with Dr. Jacobs, she has published Little Observers and Little Sammy (two sets of readers for preschoolers), and Grammar in Use (a series of content-based activity books for learning grammar and topics such as ecology).
Dr. George Jacobs holds a doctorate in Educational Psychology. He has taught courses in English, Cooperative Learning, Curriculum Design, Environmental Education, and Multiple Intelligences in the U.S., Thailand, Singapore, Nicaragua and China.
Dr. Jacobs is a member of the Nature Society (Singapore). He serves on the Executive Board of the International Association for the Study of Cooperation in Education (www.iasce.net), co-edits the newsletter of TESOLers (Teachers of English to Speakers of Other Languages) for Social Responsibility (www.tesolers4sr.org), and acts as co-convener of the Language and Ecology Scientific Commission of the International Association for Applied Linguistics.
Among his books are Learning Cooperative Learning via Cooperative Learning: A Sourcebook of Lessons for Teacher Education (Kagan), Getting Started: Materials Writers on Materials Writing (Southeast Asia Ministers of Education Organization) and Greening the Language Classroom (Pippen). As co-author with Dr. Loh, he has published Little Observers and Little Sammy (two sets of readers for preschoolers), and Grammar in Use (a series of content-based activity books for learning grammar and topics such as ecology).
---
This substantial book provides science and teaching ideas and activities for over 150 life science lessons for students aged between 8 and 14. It is co-authored by a science educator with particular interests in life science and an educational psychologist. The content is based on explicit educational foundations, with an emphasis on cooperative learning. Howard Gardner's model of 'multiple intelligences' is used to promote an inclusive pedagogy which aims to connect learners with science through a rich range of modalities. It also utilises a set of coherent pedagogic strategies, known as Kagan Structures, to offer teachers a template for designing their own approaches. This amounts to a charter for imaginative and stimulating science teaching.
It would be possible to treat the activities as ready made lesson plans. The book has much more to offer, however, in rewarding readers who are interested in pedagogic reasons and scientific bases for the design of the activities. This is welcome, as it is apparent that pedagogic change introduced without an understanding of purpose tends to be ineffective.
The 400 plus pages are organised into nine units, several with curiosity-generating names, such as: 'Who are nature's cleaners and what do they do?', 'Why do animals play hide and seek in nature?' and 'How am I different from you?'. Within the units we find individual lesson titles like, 'Are my fingerprints the same for life?', followed by, 'What's as distinctive as fingerprints for tigers?' and later, 'How can you prove you are really you?'. Questions like these promise lessons that, like the best children's stories, will be as interesting for adults as for children.
This is a most impressive and original science book. It offers opportunities greatly to enrich life science learning at key stages 2 and 3. I hope very much that it will be followed by a similar text in the physical sciences.
Dr Jon Scaife, School of Education, University of Sheffield, j.a.scaife@shef.ac.uk, April 2004.
Back