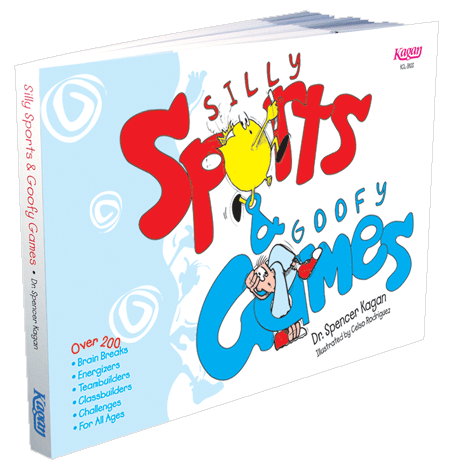 Silly Sports & Goofy Games
Easy to select games organized by function to address specific needs as curriculum for students.
Games are designed to stretch the kinesthetic intelligence and release playfulness, creativity, and joy.
Forms of play develop strategies, fairness, sportsmanship, spontaneity, character, and joyous interaction.
Use in almost any setting!
In a matter of moments, you can convert any class into a focused, high-energy community. Boost energy. Boost achievement. Release joy with the world's most comprehensive collection of indoor and outdoor sport and game activities. Includes over 200 step-by-step, fun, and engaging sports and games in nine categories: Terrific Tag, Happy Helpers, Beautiful Balances, Creative Coordination, Meaningful Movements, Crazy Challenges, Ridiculous Relays, Silly Sports, and Goofy Games. Use 'em for classroom brain breaks. Use 'em for rainy-day fun. Use 'em for physical education. You will promote classroom community—with these games everyone wins! 296 pages.
Sample Pages
Click on an image to view and/or print it full size.
Love it! Love it! Love it! Silly Sports & Goofy Games is a lifesaver for me. Whenever I look out at my class and notice that they are drooling on their desks, I know it is time for a brain break and this book has a BUNCH!! I have always been more than willing to invest 3 or 4 minutes to gain 30 more with my students. These games perk them up and get the blood moving. They are easy and fast and EFFECTIVE...especially after lunch when those doldrums start to hit them! I think they give me some energy too by just watching them giggle!
---
I recently ran off some pages for my middle school students and told them that THEY would be responsible for teaching the class the next Silly Sport or Goofy Game. I saw them practicing Popsicle Push-ups on the playground at lunch to make sure they understood the directions. NOW, if I can just get them to read directions in their MATH books like that! Now, all I have to say is "I think it is time for a brain break" and they BEG to be the one to lead the class in their assigned game. I have even had parents tell me that the kids in their neighborhood are now playing Silly Sports & Goofy Games.
---
I ordered this book because it was recommended by a teacher of one of my Masters classes. I LOVE it! I used it during the last month of school with my fifth graders. They begged me to "try another game" each day. Most games are quick and need no equipment. I have also been using them in summer enrichment classes I am teaching and all of the students from second grade through seventh just grin from ear to ear while we play. The games are great two minute energizers, rainy day indoor games, or even outdoor recess fun. You won't be disappointed!
—C. Rogers
---
I use this book ALL THE TIME. Whenever we want a short, 5 minute activity, I pull this out and use one of the games with my students. THIS IS MUST-HAVE BOOK.
—H. Johnson ND, USA
---
I love that the games are offered within categories—that helps me find something on the fly. Also, my students have gotten familiar with the book and I sometimes have one of them choose what we'll play "next" time! There are great games for all age groups. I teach high school, so I worried about whether or not my kids would turn up their noses at the games included; but there are so many from which to choose, that hasn't been a problem at all! The kids are so excited to be out of their seats doing something; they don't care if I pick a more elementary game once in a while. The favorite so far has been group juggling. Beware - it gets LOUD! :)
—Exday (Amazon)
---
Here are some comments from a very enthusiastic 6th grade class:
Dear Dr. Kagan,
Thank you for making up these fun activities. They are really fun. Plus they give us a small break after working a long time or after a hard test. They just put us out of our chair for a little bit. My favorites are Killer, Magic 11, Everyone's It and Chef's Salad. There are many other great ones but I don't remember them. So thank you and good luck in your career. I'm sure you will be a success. You probably already are.
—David Martinez
Dear Dr. Kagan,
Your Brain Breaks are awesome! I love them all, but one of my favorites is Mr. Magoo. Our teacher
took us outside and we got to go around campus! Another one of my favorites is Hop Off. It was
fun knocking people down. I was even the winner a couple of times! I also love Killer. I did
probably some of the most dramatic "deaths" in the class. I even stumped a couple of people when
I was It. I also like Sculpture Garden. It was funny making two guys waltz with each other! The other
"sculptures" were funny too. Your Brain Breaks are really fun. Keep 'em coming!
—Sinclair
Dear Dr. Kagan,
I really like Killer, Hop Off, Mr. Magoo, Everyone's It and Chef's Salad. I believe that these are extremely
fun games. I think that if every day we do 7 Brain Breaks it will allow our school to be 98.9% more fun because it will give students small breaks during class. I hope you make many more games for all kids.
—James Bridgewater
Dear Dr. Kagan,
I really like the Brain Break Mr. Magoo because it is good to take your mind off work for a couple of minutes. It is also good to get up and stretch. Another game I like is Sculpture Garden because it's fun to make your
partner look weird and yourself look weird. Your Brain Breaks rock!
—Catherine Wang
Dear Dr. Kagan,
I can't thank you enough for creating Brain Breaks. They really help when we (my classmates and I) are up to our limit and starting to get very sleepy. Our teacher sees this (I think) and lets us do a Brain Break. These are always an automatic success in getting our brains a good jump start. My personal favorites are Hop Off (which I am very good at), Killer, Moon Jump, Jaunt and Mop. And since I am very light for a sixth grader (73 lbs.), I get the maximum amount of excitement. These and other Brain Breaks are truly brain breaks.
—Andy Chu
P.S: Please make more Brain Breaks!
Dear Dr. Kagan,
I think the Brain Breaks or energizers are really fun and cool, because when you sit almost all day, it gets really boring. But when you get up and start moving, your blood starts moving, and you want to learn more. Here are some of my favorite Brain Breaks: Mr. Magoo, because it makes you trust people more. Knots, because it helps you bond more with your team or a group. Mirror Mirror, helps people get over their fear of making fools of themselves in front of a large audience. Partner Pull-Ups also helps you bond with others. I thank you for inventing Brain Breaks.
—Haley S. Oskoui
Back