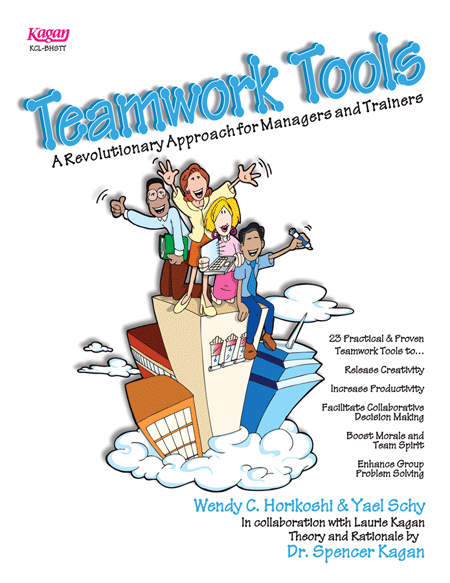 Teamwork Tools
A Revolutionary Approach for Managers and Trainers
With skyrocketing interdependence and teamwork in the workplace, managers and trainers are clamoring for effective teamwork strategies. This book offers exactly that: Tools for successful teamwork. If you're a corporate trainer or executive, you will find powerful Teamwork Tools for teambuilding, enhancing communication skills, knowledge-building, skill-building, creative thinking, problem solving, making decisions as a group, and exchanging information. Ideas and case scenarios will clarify how you can use these Teamwork Tools with specific training groups including: administration, customer service, finance, human resources, manufacturing, operations, research and development, sales and marketing, and information technology. Make teamwork work with Teamwork Tools! 248 pages.
Sample Pages
Click on an image to view and/or print it full size.
Introduction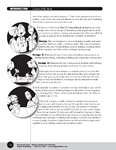 Review by Hester E. van de Rhoer
Associate Director of HR, Yale School of Management
I got rave reviews with the exercises I used from Wendy's Teamwork Tools. They are easily adaptable to various scenarios and organizations. This book has increased my flexibility as a trainer in the best possible way and I recommend it highly to anyone working with groups.
---
Review by Dr. Judi Berzon Human
Resources Administrator, Union Sanitary District
Teamwork Tools provides many useful exercises that allow the trainer to work interactively with participants to build skills in communication, problem-solving, small and whole group interactions, conflict resolution and other areas. Not only does this training resource cover a variety of content areas, but the authors also target content for specific training groups—administration, customer service, finance, human resources, manufacturing, operations, sales and marketing, and information technology and operations. Since many trainees respond positively to examples and situations that are similar to those they encounter in their work environment, Teamwork Tools will be particularly useful in working with trainees from different functional areas. The debriefs of the exercises provide excellent questions for group discussion and make each of the exercises more powerful than if the participants had simply completed the exercises. These debriefs can assist trainees to have a higher-level understanding of the specific skill-building exercise on which they have been working. Teamwork Tools has already proven useful to me as a trainer, and I look forward to tapping into this resource in the future.
---
Review by Laurie Lippin
Ph.D. Trainer & Coach, Lippin & Associates
What I especially appreciated was the narrative, written in an easy, friendly, and simple style so that it operates as a cookbook, or, more appropriately, a design book.
Kagan's Structures are sound experiential activities, here presented in a step-by-step fashion complete with multiple applications and the all important (to experiential education) debriefing questions.
All in all, I would recommend Teamwork Tools to managers and facilitators who want to improve their skills to conduct teambuilding and have a ready repertoire of engaging, effective, adult learning activities.
---
Review by Hank Sullivan
President Strategic Solutions
If you are a company that has a need for internal training, and what company doesn't, I highly recommend that you consider using Teamworks Tools by Wendy C. Horikoshi, M.S.
This tool will enable you to make your in house training more effective. Training is a very important process to help make your company successful. However, most business people have not been schooled in the art of effective training. Wendy's Teamwork Tools will enable you to put together and deliver effective training for all aspects of your business. A well trained employee is much more productive person. Productive employees are the key to success and profitability. So do not hesitate to add Wendy's Teamwork Tools book to your business library. 
Back