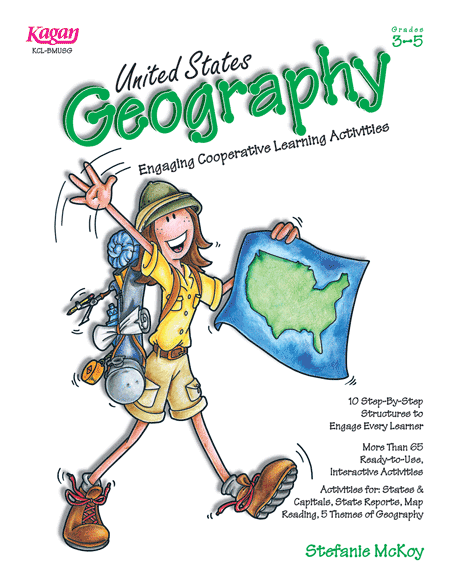 United States Geography
Engaging Cooperative Learning Activities
10 Step-by-Step Kagan Structures to promote cooperation and engagement!
Jam packed with 75 Ready-to-Use interactive activities students love.
Activites for 5 Themes of Geography, States and Capitals, State Reports, Map Reading, and State Maps.
Learning U.S. geography just got a whole lot more fun and interactive! Students play Quiz-Quiz-Trade to identify states on their partners' quiz cards. They "Find Someone Who" knows the capitals of the states in a region. They have a team "Showdown" to respond to map skills questions. The first section is a reference guide to the Kagan Structures used throughout the activities. Next come activities for students to reflect on the five themes of geography. Then there are tons of activities on states and capitals, conveniently organized by region. Next is a section full of activities for developing map reading skills, including elements of a map, cardinal directions, and latitude and longitude. You'll even find state report activities to deepen thinking about the state and cement important information. Make U.S. geography unforgettable with these cooperative and engaging activities. 256 pages.
Sample Pages
Click on an image to view and/or print it full size.
Back