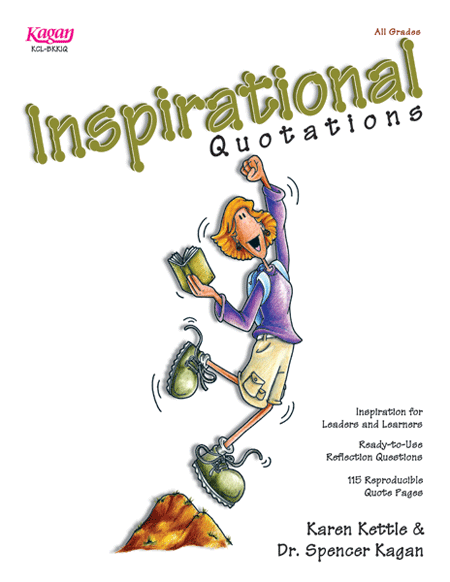 Inspirational Quotations
Quotations to Inspire Leaders and Learners
More than 1,600 quotes to inspire leaders and learners.
115 attractively illustrated full-page quotes to use for blackline masters, wall posters, interactive activities, and more.
Ready-to-use reflection questions and activities.
Wise words of the ages inspire leaders and learners alike! In this indispensable resource, insightful and motivational quotes are arranged conveniently by topic—finding the perfect quote is a dream! This quote book is unique: It provides attractively-illustrated, full-page blackline masters so you can create transparencies and bulletin boards. You'll find reflection questions, interactive activities for classes and faculty meetings, and an author index. It is a "must have" for every educator's library. Great for administrators—inspire your staff. Fantastic for classroom teachers—make quotes part of any lesson. Quotes are arranged by topics: Attitude, Challenge, Change, Character, Conflict, Creativity, Decision Making, Diversity, Education, Emotional Intelligence, Experience, Humor, Interconnectedness, Leadership, Learning, Opportunity, Perseverance, Risk, Service & Love, Success & Failure, Teaching, Vision & Goals. 312 pages.
Sample Pages
Click on an image to view and/or print it full size.
Table of Contents

Back