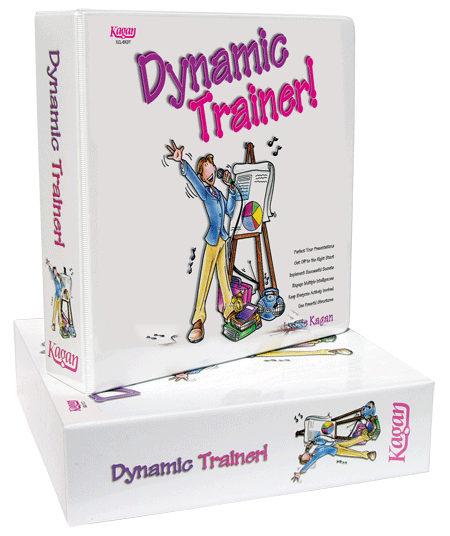 Dynamic Trainer
Exciting, ready-to-do classroom activities!
11 Cooperative step-by-step structures with hundreds of content ideas
Fosters a caring community of active learners
Each student celebrates the diversity of every other classmate!
Over 120 reproducibles
Become a dynamic trainer! Regardless of who you train or what you present, you will find invaluable tips and techniques to elevate your presentations to new levels of excellence. Learn how to plan your presentations with the end in mind, so you will hit the learning target every time. Discover the 4 secrets successful trainers use. Avoid common training pitfalls. Know what to say and what to do to make and maintain a good impression. Appeal to different learners with multiple intelligences training strategies. Learn power tips for using PowerPoint®, transparencies, flipcharts, handouts, and videos. Keep your audience actively involved to maximize attention and learning. Dynamic Trainer features Kagan training structures for teambuilding, classbuilding, brainstorming, processing, and reviewing information. Use these training strategies and your participants will give you terrific ratings every time.
Don't be intimidated by the large size of this trainer's handbook. It is designed with the busy trainer in mind. Each section is tabbed so it's easy to find exactly what you're looking for. The three-ring binder makes the reproducible pages easy to pull out and copy. Plus, all the information is presented in an attractive format that makes the tips easy to read.
Dynamic trainers are better prepared, more professional, more persuasive, more credible, and more interesting. Start today on your path to becoming a dynamic trainer. 352 pages.
Sample Pages
Click on an image to view and/or print it full size.
Back