Kagan's Articles - FREE Kagan Articles
Research & Rationale
At Lehigh Senior High School, "It's All About Engagement!"
Special Article
At Lehigh Senior High School, "It's All About Engagement!"
Jackie Corey,
Principal of Lehigh Senior High School
To cite this article: Corey, J. At Lehigh Senior High School, "It's All About Engagement!" Kagan Online Magazine, Issue #56. San Clemente, CA: Kagan Publishing. www.KaganOnline.com
We have seen incredible results over the last five years since we began implementing structured cooperative learning. Lehigh Senior is a Title 1 school—full of diversity and 100% free and reduced lunch—with a population of around 2,000. We know that our students are active and will engage themselves in the classroom. What we have learned is that we can decide how they will be engaged.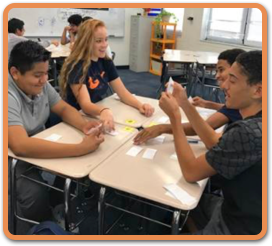 Three years ago we were frustrated with the continued failure of students in math, specifically in algebra. Placed in a course entitled Intensive Algebra are many students who have not performed well previously in math and are less motivated in the classroom. Our students were not performing in this course, and we decided a change was needed. Four teachers came together to form a Professional Learning Community focused on standards, data, and engagement. Each teacher received Kagan Cooperative Learning training (Days 1-5). These teachers all worked together during a shared planning period. After identifying needed standards, they knew they had to plan instruction that would hold the attention of their students. Why couldn't math be interactive and fun? These students, lacking social skills, also needed to learn how to work appropriately together. Kagan provided the tools we needed—classbuilding and teambuilding activities to change the culture of the classroom to one that was trusting, a culture where students were comfortable interacting. Kagan Structures gave them the tools to make learning accountable and interactive.
This brought us from the bottom of our district performance to the top of the list. We have consistently remained at the top since, closing the achievement gap among our at-risk students.
Algebra classrooms transformed from ones that reluctant math students dreaded to ones that they looked forward to attending. Students became learners and teachers among their peers. They were able to learn and grow from their interactions with each other. Research tells us that if we engage students in the learning process through active learning, they have a better chance of remembering what they've learned. This was true of our students. When the team began to analyze their data, they began to see learning gains. By the end of the year, we improved our algebra scores by 17%. This brought us from the bottom of our district performance to the top of the list. We have consistently remained at the top since, closing the achievement gap among our at-risk students.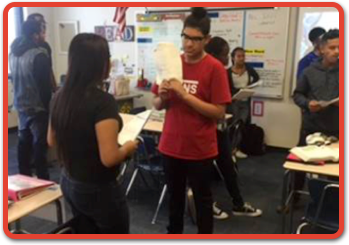 After that year, the rest of the staff became very curious. Some of them had been to training and about 30% were implementing Kagan. We then moved to school-wide common planning Professional Learning Communities. After three years of staff attending a variety of Kagan trainings, we brought them all together and completed Days 1-5 of Kagan Cooperative Learning during pre-school week. It was positively the best investment we have ever made. Fast forward a year later, we progressed and moved to Kagan school-wide implementation. All desks are set into cooperative groups of fours. All teachers are implementing classbuilding, teambuilding, and structures. It is not uncommon for a student to correct a teacher if a step is missed in a structure because our students live and breathe cooperative learning every day.
At Lehigh Senior we have a way of doing business that is called the "Lehigh Way." Kagan is built into the values and expectations we all require of each other. As a teacher, it truly makes teaching so much easier when all teachers are working together utilizing the same ideals in the classroom. Whenever we come together, we all model good instruction that incorporates Kagan Structures. These strategies do not just engage students; Kagan Structures have also transformed our professional development opportunities into ones that are engaging and accountable for adults.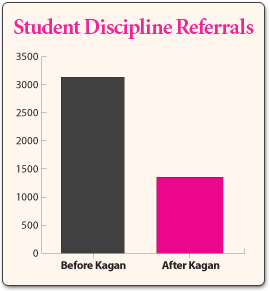 Lehigh Senior experienced a 58%
reduction in one year with Kagan.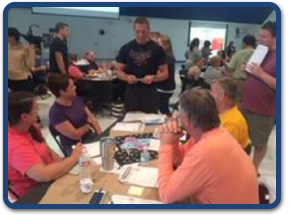 When we went school-wide with our implementation, we were also at the same time trying to reduce student discipline behaviors. Our focus was two-fold: (1) implement interventions and improve conversations among students to de-escalate behaviors; and (2) engage students in the classroom so they don't have the opportunity to lose focus and get in trouble. Students started learning how to work better with their peers. Students began to be vehicles for learning, and the teachers learned to become facilitators of learning. Active engagement and energy throughout the school became alive! That year we celebrated a 58% reduction in disciplinary referrals. We went from 3,135 to 1,355 student discipline referrals!
This year, we sent a team of 10 educators to the Kagan Coaching workshop. This was also a pivotal experience for our school. In traditional feedback systems, teachers receive their feedback later, when the moment has passed and the true learning opportunity has been lost. This training taught us the benefits of "coaching in the moment" to improve quality instruction. We learned that we could all get better by utilizing the coaching tools to help improve each other. During our pre-school week, all 110 teachers learned this simple process and had fun practicing and coaching each other. Now we all visit classrooms to improve our tools by helping each other. As the principal, I have to be on my game or I will get coached mid-meeting when using a structure with my faculty. The culture of our teachers has positively been improved as we all now work together to better our best.
We have learned through this process that accountable collaboration and engagement in all things is key. Students are improving both academically and behaviorally by our universal approach to using Kagan school-wide. We are truly closing the achievement gap and reaching the needs of ALL students. Our teachers have full tool belts and are ready to tackle daily challenges in the classroom.
Teacher Comments about Kagan
"Students are so engaged that they don't have time to be disruptive. Student are so caught up in the fun that they don't even realize they are on task."
 —Debbie Ciolino

"As a new teacher, I struggled with classroom management.  After my first year, I went to Kagan Win-Win Discipline. It helped me see how to use structures to teach content and keep students engaged in learning. My time now is spent less on discipline and more on content."
 —Jenee Waddell

"As a new teacher, Kagan helped me learn how to create a positive culture and an environment where students depend on each other so they benefit from learning from each other."
 — Jim Nelson

"It helps my lessons run more smoothly and helps improve my classroom management. Students are more focused on learning because they are engaged." 
 —Chelsea Sensor

"The Kagan Structures, processes, and strategies that I have learned over the past few years have really helped me improve my classroom environment and my teaching techniques.  I have seen increases in the positive interactions between my students in addition to advancing their understanding and comprehension of the materials taught."
 —Kimberly James

"I worked at a building where there was no teaching consistency among my colleagues. At Lehigh, everybody is doing the same thing, so the students know what to expect and that makes it successful. The strategies ensure that all students are all responsible for learning the material."
 —Katie Peery
Student Comments
"Classbuilding helps improve our class chemistry."
 —Roger Davis

"Working together with structures helps us gain perspective of others because you're exposed to everyone's thoughts or ideas."
 —Lilly Ramirez

"I really wasn't planning to participate today, but before I knew it, I was completely involved."
 —Ty-ge Davis

"I don't get this, but I will as soon as we do an activity, because I know that's coming."
 —Jojo Phiseme

"Classbuilding and teambuilding removes the awkwardness of sitting next to someone you might have never been given the opportunity to know."
 —Leeanne Loewer