Kagan's Articles - FREE Kagan Articles
Articles by Dr. Vern Minor
Cabot Middle School North Earns Top Award
Special Article
Cabot Middle School North Earns Top Award
Gavin Clowse
To cite this article: Clowes, G. Cabot Middle School North Earns Top Award San Clemente, CA: Kagan Publishing. Kagan Online Magazine, Fall 2011/Winter 2011. www.KaganOnline.com
"YEAH! Thank you for helping our school shine!"
—Tanya Spillane, Principal
Cabot Middle School North, a fifth and sixth grade school, was rewarded for its many achievements. Three years ago they were designated as a Diamond School for academic excellence by the National Forum to Accelerate Middle Grades Reform's Schools to Watch Program. This is quite a prestigious honor as there are only five Diamond Schools in the state. Recently, the Schools to Watch visitation team returned to the school, visited every classroom, and spoke with parents. The forum re-designated the school as a Diamond School.
The school demonstrated strength in seven core categories:
Academic excellence

Commitment to young adolescents

A shared vision

School climate

Social equality

Family and community partnership

Organization and infrastructure
After the observation, Mona Briggs the co-director of the Schools to Watch program wrote a letter to principal Spillane, praising the school, "The Arkansas Schools to Watch visitation team was impressed with the enthusiasm, professionalism and dedication of your administrators and faculty to providing exemplary programs and services for students."
Check out the picture that the Three Rivers Edition ran of a class doing Kagan Cooperative Learning.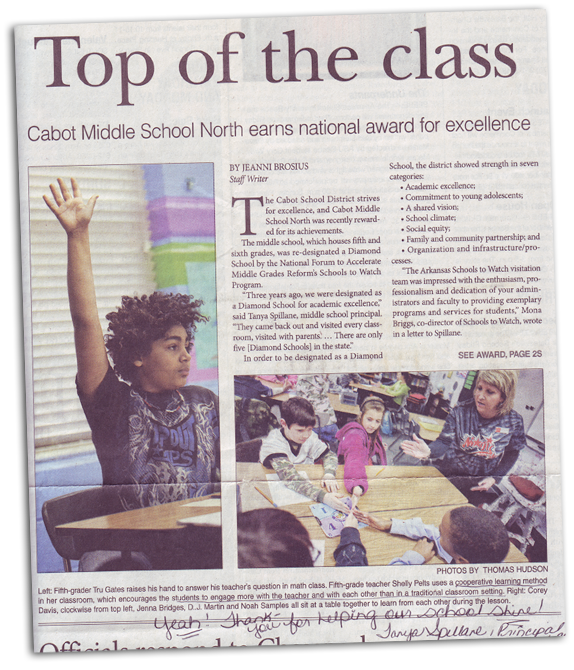 The caption reads: "Fifth-grade teacher Shelly Pelts uses a cooperative learning method in her classroom, which encourages the students to engage more with the teacher and with each other than in a traditional classroom setting."

Principal Spillane identifies Engagement as one of the schools three main areas of focus. Teachers use Kagan Cooperative Learning Structures to actively engage students. Beginning in 2003, Kagan Professional Development has been working with Cabot Schools. Since that date, Kagan has conducted many professional development events in Cabot area, including work specifically for principals and administrators. Cabot has been a destination for Kagan's USA Tour, featuring workshops on Active Engagement and Win-Win Discipline. A Brain-Friendly Instruction workshop is scheduled in Cabot as part of Kagan's USA Tour in January, 2012.
Representatives from Cabot Middle School North attended the National Schools to Watch conference in Washington, D.C., to give a presentation and meet with congressmen. "It's a huge, huge honor, and the kids really got excited when we won," says Spillane in the article.
Credits

• Three Rivers Edition Newspaper
• Jeanni Brosius, Staff Writer
• Thomas Hudson, Photographer