Kagan's Articles - FREE Kagan Articles
Articles by Dr. Vern Minor
Kagan Connections—Balanced Literacy
Special Article
Kagan Connections—Balanced Literacy
Jackie Minor, Ed.D.
and Vern Minor, Ed.D.
To cite this article: Minor, J., Minor, V. Balanced Literacy San Clemente, CA: Kagan Publishing. Kagan Online Magazine, Issue #55. www.KaganOnline.com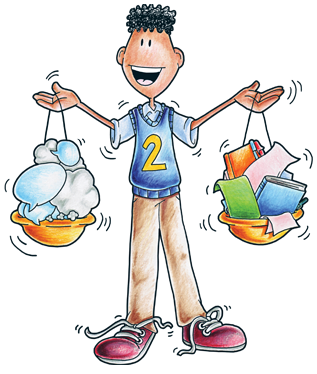 Balanced literacy is an approach to teaching language arts that has been defined in various manners. While the term balanced literacy has taken on multiple meanings, nearly all educators agree that there must be a balance in terms of instruction, time, and materials for the following: comprehension, word study, fluency, and writing. At the heart of this initiative is the supposition that students best acquire literacy skills in an integrated and differentiated manner. There is growing evidence to suggest that a balanced literacy program is, indeed, a best practice. However, this approach to teaching literacy will not produce gains for all children if traditional pedagogical methods are used.
Balanced literacy should impact curriculum, assessment, and instruction. Unfortunately, far too many educators focus only on the curriculum standards and assessment strategies that change with this approach to teaching literacy. Failing to address instruction will undoubtedly ensure that no significant gains will occur as a result of shifting to this method of teaching language arts.
For example, if a teacher is working on word study—a component of a balanced literacy approach—using traditional, whole group methods (i.e., having student practice in solo fashion), a support system does not exist to ensure all students are successful. If that same teacher has students practice in unstructured group settings (i.e., some students do the work while others choose to disengage), some students get the necessary repetitions to master the skills, but others do not. For decades, educators have utilized these types of pedagogical methods, and the result has been a massive achievement gap between subgroups of children. There is ample evidence to suggest that changing programs or curriculum standards without altering underlying instructional approaches will not improve learning for all students.
Effective educators understand the critical importance of student engagement. Students who are not engaged with content every day, all day, will never achieve at high levels. Kagan Structures make student engagement a reality for all students. Kagan Structures—as the name implies—"structure" interaction so all students are engaged with content and with each other. Because Kagan Structures are content free, they can be integrated into any content area or any grade level, including a balanced literacy program. When balanced literacy concepts are coupled with powerful Kagan Structures, all students become fully engaged with literacy content. All students get the repetitions and support they need to master skills, and the achievement gap in literacy narrows.
Various models of balanced literacy exist. Regardless of the program that is implemented, certain components necessary for students to master written and oral communications are embraced by all models. Highlighted below are some common program elements in the areas of reading and writing. A brief description of each component is offered. Additionally, examples of how Kagan Structures can be integrated into each of these elements are provided. Keep in mind that the purpose of this article is not to articulate what is entailed in balanced literacy. There are components of a balanced literacy program that are not addressed herein. Rather, the intent of this article is to illustrate how these two concepts—balanced literacy and Kagan cooperative learning—can and should be integrated in order to enhance achievement for all students in the realm of literacy.
READING CONNECTIONS
1. Read Aloud
During a Read Aloud, the teacher does more than simply read a text to students. Teachers interact with students during the course of the reading, often focusing on a particular skill that has been identified in advance. The teacher models her thinking aloud as she reads fiction, informational text, or poetry. Typically, the teacher stops at planned points in the text to ask questions and elicit student responses.
Kagan Structures can be used before, during, and after a Read Aloud. Consider, for example, how structures could be woven into the book, Charlotte's Web. As a pre-reading activity, the teacher could use StandUp-HandUp-PairUp to have all students respond to the following question: "Describe to your partner how a true friend behaves." During the story, the teacher could stop and invite students to make a prediction by asking, "What do you think Charlotte will do next?" All students could respond to their shoulder partners using a Timed Pair Share. Finally, as a post-reading activity, students could use Kagan's Reader Response Cubes coupled with Timed RoundRobin to reflect on the novel. Students do not have to sit passively during a Read Aloud. By using Kagan Structures, all students can respond to teacher's questions. Requiring all students to function in an overt manner better ensures all children are listening to the story as it is being read.
2. Shared Reading
During Shared Reading the teacher reads enlarged texts aloud. Texts can vary (e.g., big books, poems enlarged on chart paper); what is important is that the text is large enough that all students can follow the print. The teacher uses this time to explicitly teach and model reading strategies used by good readers. The responsibility for reading is shared between the teacher and students.
A common strategy that is used in Shared Reading time is Choral Reading. Students who are less confident in their reading ability experience less anxiety when they are part of a community of readers. However, often times students can "hide" in large groups by simply mouthing words and not truly reading. A Kagan Structure that creates safety for students but increases accountability is Poems for Two Voices. This structure provides the same benefit of reducing anxiety for struggling readers and, simultaneously, increases the level of student engagement.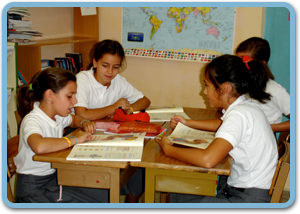 3. Guided Reading
Guided Reading is the time when a teacher meets with small groups of students who have similar reading levels to work on specific reading strategies. In Guided Reading groups each student has a copy of the text. The teacher uses the time to explicitly teach and have students practice the skills they need to improve their reading proficiency.
Even though students are in group settings, it is common for teachers to still function as traditional, whole group instructors (i.e., call on one student volunteer at a time). Doing so provides opportunities for engagement with the content to some students but not to all. Pairing students within the small groups is an effective way to engage all students and have a high percentage active at the same time. For example, a teacher could integrate the structure Listen-Sketch-Draft into a group lesson to help students with the reading skills of creating mental pictures, identifying main ideas, and writing summaries. In doing so all students get equal repetitions within the group setting to practice the skill being taught.
4. Independent Reading
Independent Reading is a time when students read texts at their respective levels in order to develop fluency and automaticity. At times the teacher meets with students one-on-one to conference with them about their text. Students are also often asked to respond to what they have read through solo writing or drawing.
While Independent Reading does need to occur in solo fashion (as the name implies), there is no reason why students' responses to the text need to take place in isolation from other children. Structures can be used to hold students accountable for their reading by asking them to share what they have read, written, or drawn with their peers. Inside-Outside Circle is a structure that would allow students at all levels to respond to others about their independent reading. For example, students—regardless of their reading level—could describe the setting, the main character, or the highlights of their stories to other children in the class, thus engaging and differentiating for all students simultaneously.
5. Word Study: Phonemic Awareness, Vocabulary, Phonics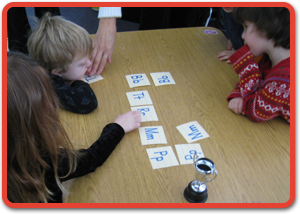 Word Study is the study of our alphabetic symbol system. Through Word Study students learn letters and the sounds they make, spelling patterns, vocabulary, and common etymological word parts. It involves both encoding (phonics and spelling) and decoding (reading). For emergent and early readers, the teacher plans phonics based mini-lessons. Advanced readers often focus on the etymology of a word, learning common prefixes, suffixes, and Latin and Greek word stems.
Vocabulary is one component of Word Study. Too often children are expected to work on their vocabulary words alone. Doing so does not provide the support they need to effectively retain the meanings of words. The Kagan Structure Quiz-Quiz-Trade is an exceptional way to help students get the necessary practice to recall words and definitions. The structure has embedded social skills (i.e., coaching and praising) that create a support system in which students are helping their peers learn.
WRITING CONNECTIONS
1. Interactive Writing
In Shared Writing the teacher jointly composes a piece of writing with students. The teacher writes the text in front of students and models her thinking out loud as she writes. Students listen to the teacher's thoughts and respond when the teachers asks for input. Typically, the teacher requests feedback from students on aspects of writing that children need to develop more fully.
All children need practice in the skill being demonstrated in order to gain competency. Soliciting feedback like a traditional teacher (i.e., calling on volunteers to share their ideas) only gives some students practice. Using Kagan Structures gives all students the opportunity to practice the skill being addressed. For example, word choice is a skill that children are taught. A teacher could write a sentence on the board such as the following: "The green dragon roared at the children." The objective in this illustration is for children to think of other terms that could be used besides "green" to describe the dragon. Rather than calling on volunteers to suggest ideas and give a few children the opportunity to practice word choice, the teacher could have all students brainstorm possible adjectives. An excellent brainstorming structure is RallyRobin which would allow all students to be involved in answering the teacher's question.
2. Guided Writing
As is the case with Guided Reading, there are times when a teacher needs to meet with small groups of students who require assistance with a specific writing strategy. In Guided Writing groups the teacher provides explicit instruction and practice to help a group of students acquire a targeted writing technique.
As noted in Guided Reading, teachers can still function like a traditional, whole group instructor even when students are organized into small groups. Rather than working solo to master a writing skill, students can work together to support each other's learning by giving specific feedback to one another. RallyCoach is an excellent structure that can be used with writing that ensures all students participate fully in the activity and provide help to their peers. Coaching and praising are two critical social skills that are embedded in this structure.
3. Independent Writing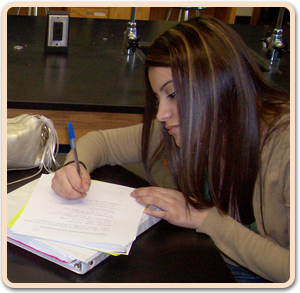 Independent Writing gives students an opportunity to write about self-selected topics. Students apply strategies and skills that have been learned during Interactive Writing, Guided Writing, and Word Study. The teacher often uses this time to conference individually with students to assess their strengths and growth areas.
While working solo is certainly an important aspect of learning to write, this component of literacy can be enhanced by providing all students with structured ways to share their writing with their peers. Students are motivated by and enjoy sharing original products with their friends. Numerous Kagan Structures (e.g., Folded Line-Ups, Mix-Pair-Share, and All Around the Clock) give students a chance to read their writings to their classmates.
4. Word Study: Conventions
Word Study, as noted earlier, helps students accurately recognize words and use them properly to convey meaning. In doing so, students become fluent readers and writers with a strong vocabulary. They also become adept at exploring and manipulating words. A component of Word Study is teaching students writing conventions.
Writing conventions include punctuation, capitalization, grammar, and paragraphing. Using proper conventions enhances the readability of a piece of writing. Practice on conventions is typically done in solo fashion. An effective Kagan Structures that provides support while learning conventions is Rally Quiz.
OTHER LITERACY CONNECTIONS
1. Explicit Instruction
As noted throughout this article, explicit instruction is woven into various components of a balanced literacy program. Explicit instruction is teaching that focuses on specific learning outcomes. Content to be learned is broken down into chunks of information and taught sequentially to students. Various models exist for explicit instruction. However, most models include the following lesson components: (1) anticipatory set; (2) teacher input and modeling; (3) checking for understanding; (4) guided practice; and (5) closure. Kagan Structures can be utilized in all five of these lesson design elements.
Use of Kagan Structures within a balanced literacy program enables educators to more effectively meet the demands associated with helping all students acquire skills in written or oral communications.
2. Definition of Literacy
Traditionally, the focal points of language arts programs have been reading, writing, and language. These continue to be important components of a balanced literacy program, and Kagan Structures can be used in all three of these domains as has been highlighted above. However, a major shift is taking place in literacy practices. Tremendous emphasis is now being placed on speaking and listening skills. Students cannot remain passive and develop the communications skills of speaking and listening.  Kagan Structures give all student practice in verbal and nonverbal dimensions of communications. Additionally, the importance of using informational text has been heavily stressed in recent years. Kagan Structures can be utilized to help students not only understand informational text but also to retain the new information they learn.
3. Content and Process Standards
Literacy curriculum involves both content standards (i.e., what students should know) and process standards (i.e., what skills students should perform). Kagan Structures address both types of standards. As it relates to content standards, structures for Knowledgebuilding help students acquire facts and information. These structures incorporate various strategies to enable students to recall knowledge they have been taught.  Additionally, structures for Processing Information enable children to process information they have received and clear their working memory, thereby supporting their retention of new learning.
Kagan also has structures that help students develop other skills sets. Educators need to understand that some standards cannot be met solely by changing curriculum documents. Many standards can only be achieved through instructional practices. For example, students cannot read a book and improve their communication skills; likewise, they cannot listen to a lecture and improve their collaboration skills. If students are going to develop literacy skill sets, instructional practices must change. The role of the actor must shift from the teacher to the student. Structures for Procedure Learning, Thinking Skills, and Presenting Information give all students repetition in many literacy skills.
FINAL THOUGHTS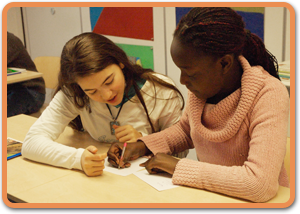 There are certainly other connections that can be made between balanced literacy and Kagan. The intent of this article is not to educate the reader on all of the components of a balanced literacy program. Rather, the connections noted herein are intended to demonstrate that Kagan Structures are not strategies that exist apart from literacy. Use of Kagan Structures within a balanced literacy program enables educators to more effectively meet the demands associated with helping all students acquire skills in written or oral communications. If educators ever hope to narrow the achievement gap and ensure high levels of learning for all students, we must embrace changes not just in curriculum standards but also in instructional practices. Kagan has a long and proud history of helping schools across the country boost academic gains and reduce the achievement gap.
We encourage district leaders to contact us about integrating Kagan into your teachers' instructional repertoire. It is our hope that we can establish a long-term relationship with your organization as you strive to improve the achievement of all children.