Brain-Friendly Teaching
Kagan Structures to Teach the Ways Brains Best Learn!
June 6–7, 2022
Grades K-12
We have a choice: We can teach using traditional methods or we can teach the way the brain best learns. Teaching with traditional methods is like swimming against the current: Teaching is more exhausting, students learn less, and like class, content, and the teacher less. When we teach the ways the brains best learn, teaching is more effortless and students learn and enjoy class more. You will view actual brain scans demonstrating how to boost engagement and retention with simple structures as part of any lesson. You will learn the six principles of brain-friendly teaching in a way you will never forget! Come turn on your brain in this active brains-on, interactive workshop. Learn to boost motivation and achievement as you create your brain-friendly classroom! WS# 33477
Multiple Workshops Discount!
Attend both Brain-Friendly Teaching & English Language Learners and
SAVE $75!
Click Here
Register Here
Registration for this event is closed.
Click here to find another engaging Kagan event.
Highlights
Put brain science to work to maximize learning
View brain scans showing how brains "light up" with student interaction
Master Kagan Structures to make every lesson brain-friendly
Target brain centers for emotion, motivation, memory, attention, and thinking
Create a safe learning environment where learning, thinking, and creativity flourish
Nourish the brain with Number Group Mania
Discover the stimuli that boost comprehension and retention of content
Apply the six principles of brain friendly teaching in every lesson
Workshop Info
Location
Orchard Park Academy
7395 Zuni St.
Denver, CO 80221
Get Directions
Time
Check-in: 8:00 am
Course: 8:30 am–3:45 pm
Workshop #
33477
Free Kagan Materials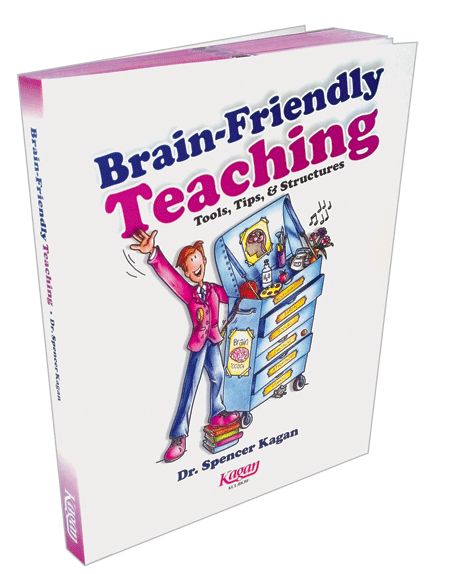 Bonus Materials
Display bonus materials here
Rave Reviews
"The content was amazing! I learned so much about the brain and how it functions, and I can't wait to use this knowledge and new structures to plan my lessons and create engaging, brain-developing activities! I love Kagan!"
—Elizabeth Garza, 9th Grade English Teacher
"I am completely blown away by Dr. Kagan's research and his ability to teach others about understanding brain function to educate children. I am so happy I attended this workshop and will encourage others to learn and use Kagan Structures!"
—Sherri Archer, Elementary School Principal
"Excellent! I loved the activities and information about brain research. I smiled more than anything because I could see my students benefiting from everything!!"
—Alicia Davis, Teacher
▼ Click for more