Building Classroom Community,

Day 1 & 2
Create Buddies, Not Bullies!
February 18–19, 2024
in Las Vegas, Nevada
(For Educators of Grades K-12)
Workshop #38188
When students feel safe, included, and appreciated, they enjoy school more; they blossom socially and academically. When students feel threatened or that they don't belong, their minds shut down, they disengage, or they become discipline problems. Come learn proven strategies to create a positive classroom community to nurture academic and social and emotional learning (SEL). In this dynamic, interactive workshop, you experience the power of simple strategies to create positive classroom communities. Create a more interactive and caring class with energizing classbuilders. Build bonds and celebrate diversity with teambuilders. Students feel more cared about by their teammates and classmates. Join us to learn how to reduce violence and racism with easy-to-use strategies that reduce the psychological and emotional distance between classmates. Create a sense of belonging in your classroom where kindness and friendships can flourish. Experience first-hand how to transform your classroom into mutually supportive learning community.

Workshop Info
Location
The Orleans Hotel
4500 W Tropicana Ave
Las Vegas, Nevada 89103-5420
Date and Time
February 18–19, 2024
Check In: 8:00am
Time: 8:30am-4:00PM

Workshop #
38188

Workshop Highlights
Learn engaging Kagan Structures you can use for fun and serious learning
Create a cooperative and caring class through energizing classbuilding activities
Create the "will" for students to work together, and teach the "skills" of teamwork
Reduce bullying and prevent violence with a class where students know and like each other
Reduce perceived threat and free up students' minds to learn more, think more, and be more creative
Develop your students' social skills as they cooperate with teammates and classmates
Experience structures to meet the five aims of classbuilding and teambuilding
Energize your entire class with movement, groupings, and celebrations
Free Kagan Materials
With your attendance, you will receive:
Bonus Materials
In addition, receive the following materials at a discount (available only to participants of this workshop) by ordering the Bonus Materials package at the same time that you register for this workshop:
Regular price $95 . Your price: $74. Save $21! and get free shipping!
Ordering by phone or fax? Use product code: CBCC2
Rave Reviews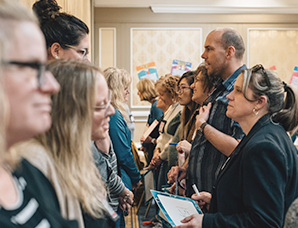 "I really enjoyed this session. I have a lot of great ideas to take back to my school. I work across grades and really believe this will help achieve my goal of building a positive community!"
"I love how we transitioned between classbuilding and teambuilding and content application. It was beneficial for us and our students will benefit from the portability."
"Very engaging! Looking forward to using the teambuilding and classbuilding structures for fun and content!"
More Reviews…
---
"Thank you for sharing this with all of us! I believe implementing these amazing structures, principles, classbuilding, teambuilding teams, management and social skill tools will change the lives of children all over the world as well as those who teach them. Thank you so much!"
"Well worth coming to! Teaches content along with a variety of teambuilding, classbuilding, functional skills that adults and children need."
"While I know that creating a safe classroom that feels like a family environment is important I have not always created this environment because I did not feel that we could do non-academic teambuilding. I'm excited to do this now!"
For More Info