English Language Learners,

Day 1 & 2
Kagan Structures to Skyrocket Comprehension and Fluency!
February 16–17, 2024
in Las Vegas, Nevada
(For Educators of Grades K-12)
Workshop #38176
How can we best meet the needs of today's ELL students? How can we help limited and non-English speaking students acquire essential reading, writing, and speaking skills for success in language acquisition across the curriculum? Kagan Structures, cooperative and communicative teaching strategies, are wonderful tools to promote English fluency while covering academic content. Through interactive structures, students are exposed to more functional language and have the opportunity to practice language more. Learn the stages students go through to learn English and then learn Kagan Structures to best help your English learners at each stage. Ideal for regular classroom teachers, ESL teachers, project directors, and coordinators.

Workshop Info
Location
The Orleans Hotel
4500 W Tropicana Ave
Las Vegas, Nevada 89103-5420
Date and Time
February 16–17, 2024
Check In: 8:00am
Time: 8:30am - 4:00pm

Workshop #
38176

Workshop Highlights
Use cutting-edge structures that integrate language learning with academic success
Put the best language acquisition research to practice in your classroom
Close the achievement gap for second language learners through proven, fun, motivating activities
Engage students who are at every stage of language learning
Create a safe environment in which budding language skills can flourish
Teach language skills in context using rich team and pair interactions
Learn how to manage your classroom to maximize success for your ELL students
Free Kagan Materials
With your attendance, you will receive:
Bonus Materials
In addition, receive the following materials at a discount (available only to participants of this workshop) by ordering the Bonus Materials package at the same time that you register for this workshop:
Regular price $138 . Your price: $109. Save $29! and get free shipping!
Ordering by phone or fax? Use product code: CESL2D
Rave Reviews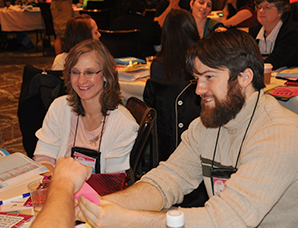 "I have a toolbox full of strategies now to use with my ELL students."
"Clear, concise, and very helpful for meeting ESL and regular education students."
"Outstanding. I especially loved learning about the developmental stages of language acquisition. I now have a deeper understanding of how to modify structures to help our ESL students."
More Reviews…
---
"Structures were great! Language acquisition was new information which will be very helpful!"
"This is my second Kagan Workshop, and I love coming to them so that I leave with new ways I can engage my students. I wish all educators had the chance to attend a Kagan Workshop! Classes and learning would be so positively affected!"
"The content was practical, flexible, applicable to a full range of grades, content, and ability levels."
For More Info