Elementary Math,

Day 1 & 2
Multiply Success with Kagan Structures!
January 14–15, 2024
in Nashville, Tennessee
(For Educators of Grades K-5)
Workshop #38165
Add zing to your daily math lessons! Boost attention and retention with highly-engaging structures for math instruction. Instead of working independently on drill and kill worksheets, your students will be totally engaged with structures such as Jigsaw Problem Solving. You don't have to change what you're teaching at all. You'll learn easy-to-use tools to boost engagement with your existing math curriculum. Come learn interactive structures you can use time and time again with any math lesson. Your students will love to work together on problem solving. While interacting over math, they'll learn more than ever before. Meet and exceed high math standards with math strategies that are anything but standard!

Workshop Info
Location
DoubleTree Nashville Downtown
315 4th Ave N
Nashville, Tennessee 37219-1601
Date and Time
January 14–15, 2024
Check In: 8:00am
Time: 8:30am - 4:00pm

Workshop #
38165

Workshop Highlights
Encourage mathematical communication with student-to-student interaction
Multiply mathematical understanding with think-alouds
Provide frequent and immediate feedback with peer coaching structures
Promote sharing of problem-solving strategies and thinking in teams
Add variety and interest to math with a variety of practice structures
Transform boring independent practice into fun pair work
Reach high academic standards with research-based strategies
Free Kagan Materials
With your attendance, you will receive:
Bonus Materials
In addition, receive the following materials at a discount (available only to participants of this workshop) by ordering the Bonus Materials package at the same time that you register for this workshop:
Regular price $120 . Your price: $79. Save $41! and get free shipping!
Ordering by phone or fax? Use product code: CEM2A
Rave Reviews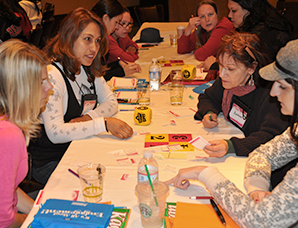 "Workshop was fabulous! I learned so many wonderful new things to keep my students engaged in math!"
"Totally works for my math classes! Great ideas, easy execution and makes learning math fun!"
"A great workshop to get brilliant activities and ideas not only for math, but across curriculum."
More Reviews…
---
"It gave me tons of ideas to improve math in my classroom and get students talking more."
"I feel the content presented in this course was exceptional. There were so many great structures presented using math content. It gave me so many ideas that could easily be done at any level."
"Relevant and refreshing. Can't wait to use these strategies with my kiddos!"
For More Info