Secondary Language Arts,

Day 1 & 2
Full Engagement with Kagan Structures!
January 14–15, 2024
in Nashville, Tennessee
(For Educators of Grades 6-12)
Workshop #38164
Be that unforgettable language arts teacher that students remember as the one who gave them skills for a lifetime! It's easy and fun with Kagan Structures for secondary language arts. Make each stage of the writing process more engaging and effective with interactive learning strategies. Generate passion for reading while enhancing comprehension. Learn easy-to-use structures to boost higher-level thinking and communication skills. Strengthen students' acquisition of vocabulary and grammar. Release the power of Kagan Structures to accelerate students' ability to write, edit, and proofread. This active workshop is loaded with practical management tips, resources, and Kagan Structures to enrich students' mastery of language arts.

Workshop Info
Location
DoubleTree Nashville Downtown
315 4th Ave N
Nashville, Tennessee 37219-1601
Date and Time
January 14–15, 2024
Check In: 8:00am
Time: 8:30am-4:00PM

Workshop #
38164

Workshop Highlights
Take away powerful and proven Kagan Structures for English/Language arts
Learn key strategies to develop command of the conventions of standard English
Ensure all students participate effectively in a range of conversations
Use interactive instructional strategies to promote interaction with a diversity of classmates
Encourage a cooperative and supportive environment where students build on the ideas of others
Teach students to express their ideas clearly and persuasively
Provide students the opportunity to develop perspective and evaluate different points of view
Free Kagan Materials
With your attendance, you will receive:
Bonus Materials
In addition, receive the following materials at a discount (available only to participants of this workshop) by ordering the Bonus Materials package at the same time that you register for this workshop:
Regular price $131 . Your price: $99. Save $32! and get free shipping!
Ordering by phone or fax? Use product code: CLA2C
Rave Reviews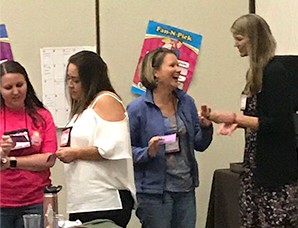 "Content was phenomenal! I learned soooo much for structuring my classroom."
"This is how I want my daughter to be taught!"
"This Kagan training was eye-opening and inspiring. I have been teaching for a decade, yet I came out of this workshop with strategies to ensure cooperative learning, rather than group work, that I can immediately put to use in my classroom come Monday."
For More Info