Transform Your High-Risk Classroom,

Day 1 & 2
Reach and Teach Students in Challenging Environments!
January 14–15, 2024
in Nashville, Tennessee
(For Educators of Grades K-12)
Workshop #38159
Do you teach in a "high-risk" environment where the majority of your students have a high probability of failing academically or dropping out of school? Are you new to Kagan, or have you experienced difficulties implementing Kagan Structures in your classroom due to your students' exceptional circumstances? Students dealing with poverty, homelessness, behavioral issues, learning disabilities, learning English, or incarceration can present severe teaching challenges. Meet the challenge with the structures, activities, and procedures you'll learn in this workshop. Combining tools from Cooperative Learning, Win-Win Discipline, and Brain-Friendly Instruction, this workshop empowers you with knowledge and strategies you will put to work immediately in your classroom. You will reach and support your hardest to reach and teach students. While individual teachers benefit greatly from this workshop, it is even more powerful when the entire school (or a school team) implements these powerful tools to transform the school experience for high-risk students.

Workshop Info
Location
DoubleTree Nashville Downtown
315 4th Ave N
Nashville, Tennessee 37219-1601
Date and Time
January 14–15, 2024
Check In: 8:00am
Time: 8:30am - 4:00pm

Workshop #
38159

Workshop Highlights
Create a safe learning environment for all students
Learn specific strategies to build positive relationships with your hard-to-reach students
Use pair structures to maximize learning and peer support
Help your high-risk students develop a growth mindset
Calm the brains and develop focus for distracted students with brain-friendly teaching strategies
Understand what's going on in the teen brain and how their brains differ from the brains of young children and adults
Promote psychological resiliency to counter adverse learning conditions
Learn what triggers your students
Adopt preventative procedures to minimize disruptions
Understand 7 psychological needs that create misbehavior
Implement step-by-step strategies to help disruptive students meet their needs responsibly
Free Kagan Materials
With your attendance, you will receive:
Bonus Materials
In addition, receive the following materials at a discount (available only to participants of this workshop) by ordering the Bonus Materials package at the same time that you register for this workshop:
Regular price $106 . Your price: $89. Save $17! and get free shipping!
Ordering by phone or fax? Use product code: CHR2A
Rave Reviews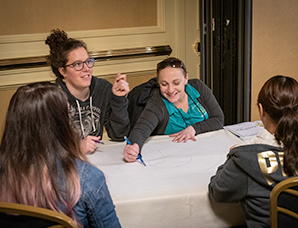 "Transform Your High-Risk Classroom was extremely beneficial to my classroom to see the step by step application, the research behind it, and how it can benefit my kids, classroom, and campus. Please keep this training! It is very needed of practical application of Kagan techniques for a high-risk classroom."
"Transform Your High-Risk Classroom was absolutely WONDERFUL! I have learned so much and can't wait to use it in my classroom. I am much more positive going back."
"I learned so many good strategies for how to deal with high risk students that I can't wait to get back to school. It occurred to me that many of these strategies are aimed at molding student's thought patterns into positive beliefs about themselves, which will affect their behavior and foster empathy."
For More Info