Elementary STEM,

Day 1 & 2
Total Engagement with Kagan Structures!
January 12–13, 2024
in Nashville, Tennessee
(For Educators of Grades K-5)
Workshop #38154
This hands-on workshop empowers you to implement Kagan Structures to release and channel student curiosity, creating life-long learners with a love for science. Make your curriculum come alive as your students acquire STEM—science, technology, engineering and mathematics—knowledge and skills by manipulating, exploring, and experimenting with real objects. STEM is an interdisciplinary and applied approach integrating the four disciplines into a cohesive learning paradigm based on real-world applications. You will work cooperatively to develop your STEM practices and thinking using Kagan Structures. Students must do science in order to learn the skills needed in today's technologically advanced world. More importantly, students must do science together! Scientists do not work in isolation. While working cooperatively, building and calculating, coding and creating, your students will gain a greater depth of understanding of real-world science and science applications.

Workshop Info
Location
DoubleTree Nashville Downtown
315 4th Ave N
Nashville, Tennessee 37219-1601
Date and Time
January 12–13, 2024
Check In: Wednesday 8:00am - 8:30am
Time: 8:30am - 4:00pm

Workshop #
38154

Workshop Highlights
Incorporate red-hot reviews to make learning stick
Achieve gains for all with strategies that ensure full participation by all
Increase active participation with a high level of engagement in each team
Have teams ask and answer meaningful questions to boost understanding
Make these subjects a hands-on experience
Use successful teamwork for experiments, investigations, and projects
Encourage verbalization through highly interactive structures
Free Kagan Materials
With your attendance, you will receive:
Bonus Materials
In addition, receive the following materials at a discount (available only to participants of this workshop) by ordering the Bonus Materials package at the same time that you register for this workshop:
Regular price $96 . Your price: $79. Save $17! and get free shipping!
Ordering by phone or fax? Use product code: CSTEM2
Rave Reviews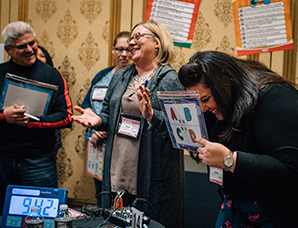 "The content was amazing! I feel like I can walk out of here and start right away! I don't know why I haven't been using the Kagan Structures the whole time!"
"The content was excellent. I received lots of different ideas and strategies that I enjoyed and feel my students will enjoy as well. This was by far one of the best workshops that I have attended. Would love to come back for another workshop."
"All content is usable not only in my science class, but I could use it in any type of class."
For More Info