Kagan School Trainer,

Institute
Get Certified!
July 17–21, 2023
in Orlando, Florida
(For Educators of Grades K-12)
Workshop #36196
Become a powerful Kagan trainer in your school. If you're experienced and successful with a range of Kagan Structures, and have responsibilities for training others at your school, you're ready for Kagan's School Trainer institute. You'll learn exactly what you need to know to train teachers. Practice the 13 steps of presenting a structure. Set up Structure-A-Month Clubs. Note: This course certifies you to conduct trainings ONLY for teachers at one school. For-profit and multi-school trainings are not permitted.
Required Pre-requisites:
Kagan 4- or 5-Day Cooperative Learning Institute and use of Kagan Structures for 1 year. You must apply to this workshop and be accepted.
Workshop Highlights
Become the Kagan instructional leader for your school
Take away the resources and lesson plans that will prep you to to train like a pro
Get certified so you can train at your school legally and correctly
Ensure you're training the right stuff the right way to ensure maximum results
Create internal capacity by having a knowledgeable and certified trainer onsite
Support your staff on your journey toward full student engagement
Meet the challenge of bringing new teachers up to speed
Refresh and reinvigorate your staff with ongoing professional development
Watch the Video
Participants rave about Kagan's School Trainer Institute at the Kagan Summer Academy at the Hilton in the Walt Disney World® Resort in Florida. Get certified at Kagan's Summer Academy.
Bonus Materials
In addition, receive the following materials at a discount (available only to participants of this workshop) by ordering the Bonus Materials package at the same time that you register for this workshop:
Regular price $561 . Your price: $439. Save $122! and get free shipping!
Ordering by phone or fax? Use product code: CCLT5H
Rave Reviews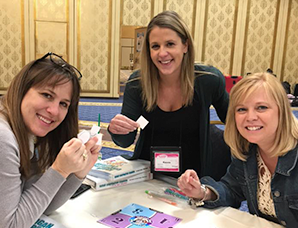 "Loaded with research and information necessary to be a great trainer."
"The content was perfect. Loved the way we focused on the best way to present this wonderful content."
"This workshop has given me the confidence I need to be able to go back and help others at my school."
For More Info