P.E. Teachers & Coaches,

Day 1
Revolutionize Your Skills as a P.E. Teacher or Athletic Coach!
July 16, 2023
in Orlando, Florida
(For Educators of Grades K-12)
Workshop #36193
Whether you are a P.E. teacher or an athletic coach, this workshop will bump your coaching and your student teams to the next level. Master proven methods so students work in pairs and teams to hone specific skills, multiply the amount of practice, and equalize participation. Best of all: Convert drills into exciting, fun opportunities. Your teammates will bond in ways that create intense team spirit—they become the mutually supportive dream team! Supportive buddies and teammates coach each other to master even the most difficult skills, and have fun in the process. Join us to take your own skills as a P.E. teacher or athletic coach to the next level!
Workshop Highlights
Learn a range of structures for achieving different science objectives
Unleash the power of peer modeling and coaching for science learning
Delve deeper by pushing students to explain and defend their thinking and conclusions
Experience how Kagan Structures work using secondary science curriculum examples
Structure learning so every student has an important part to play and stays engaged
Use successful teamwork for experiments, investigations, and projects
Create a high degree of excitement and interaction over your science curriculum
Bonus Materials
In addition, receive the following materials at a discount (available only to participants of this workshop) by ordering the Bonus Materials package at the same time that you register for this workshop:
Regular price $53 . Your price: $39. Save $14! and get free shipping!
Ordering by phone or fax? Use product code: CPE1
Rave Reviews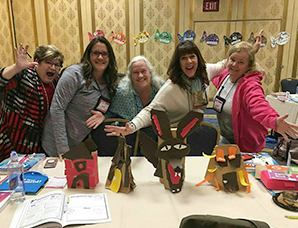 "There was nothing in this training that was not helpful! So much information...my brain is full!"
"As a new teacher coming into my second year (and out of field), I feel more confident with the tools the content provides. I'm thrilled that it is all backed up by scientific proof which keeps me at ease. I think it is incredibly impressive how it can incorporated all around.""
"This was one of the most amazing events I have ever attended. I can't believe how much fun I had at 'work.' Wonderful conference, and I hope to be invited to another Kagan Event."
For More Info