The Power of Pair Structures,

Day 1
Increasing Engagement and Safety with Pair Work!
July 15, 2023
in Orlando, Florida
(For Educators of Grades K-12)
Workshop #36192
Are you brand new to Kagan Cooperative Learning and want to get started with the easiest proven structures? Or do you regularly use Kagan Cooperative learning and want to expand your Kagan toolbox? Whether your students are in teams regularly using Kagan Structures, or you have not yet made the plunge, this workshop is for you! In this dynamic workshop, you will practice a range of simple pair structures that are easy to learn and integrate into your daily teaching. Many of the structures take but a couple of minutes, but by using them frequently you skyrocket engagement so your students love being in your class —and so do you!

Regardless of your content, grade-level, or prior experience with Kagan Cooperative Learning, this class will boost your confidence and give you new tools to increase engagement in every lesson. You will experience and practice new twists on old favorites like Pair Share and build your toolbox of structures with new pair structures like Partner Repeat, PairCoach and Not This, Not That.

Come release the power of pair structures. You will increase student learning, safety, and engagement!
Workshop Highlights
Maximize engagement with more frequent use of student interaction
Boost your confidence as you experience and practice the easiest structures to implement
Enhance variety with different types of structures and partners
Build positive partner relationships with Pairbuilding
Create a safe and intimate environment for students to share ideas
Decrease down time and mind wandering
Unleash the power of peer tutoring and partner support
Release the power of a range of pair structures within teams and within your class
Bonus Materials
In addition, receive the following materials at a discount (available only to participants of this workshop) by ordering the Bonus Materials package at the same time that you register for this workshop:
Regular price $180 . Your price: $144. Save $36! and get free shipping!
Ordering by phone or fax? Use product code: CLECT1A
Rave Reviews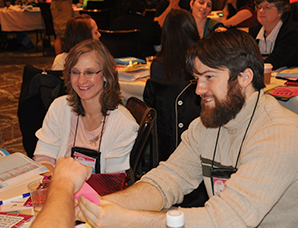 "It was amazing and it really opened my eyes to a new world of teaching. I would do this all over again!"
"I wish I could have known this from the start. The Kagan Structures are what I have been searching for. I cannot wait to implement what I learned."
"Structures make so much sense. They are a way to reach students at all levels. They will close the learning gap. Can't wait for another training in the near future!"
For More Info