Mighty Vocabulary,

Days 1 & 2
Supersize Students' Word Knowledge!
July 15–16, 2023
in Orlando, Florida
(For Educators of Grades K-8)
Workshop #36189
Give your students the verbal advantage. Increasing our students' vocabularies impacts nearly all academic subjects. Come update your vocabulary instructional practices for indirect language expansion and for independent word learning to meet today's standards. You will learn engaging, easy-to-implement, classroom-ready structures to expand and refine your students' academic vocabularies, while deepening your own understanding of how the English language evolves. Experience firsthand the power of proven Kagan Structures that promote vocabulary acquisition. You learn research-based methods for active vocabulary learning.
Workshop Highlights
Learn easy strategies to indirectly impact students' vocabulary expansion
Structure team conversations to use and practice academic vocabulary
Develop word knowledge through reading, writing, listening, and speaking
Examine what research supports for vocabulary acquisition
Make learning vocabulary fun and interactive for your students
Show your students how to make terms stick in their minds
Help students develop independent word-attack strategies through deepening their understandings of essential word elements
Watch the Video
Participants rave about Kagan's Secondary Math workshop. Come learn Kagan Structures to boost engagement and learning at Kagan's Summer Academy.
Bonus Materials
In addition, receive the following materials at a discount (available only to participants of this workshop) by ordering the Bonus Materials package at the same time that you register for this workshop:
Regular price $108 . Your price: $64. Save $44! and get free shipping!
Ordering by phone or fax? Use product code: CMV2
Rave Reviews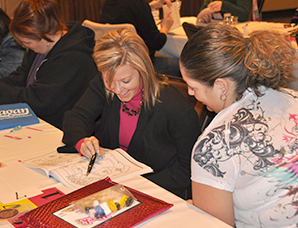 "Spot on! I will be able to use all the information immediately as it relates to my curriculum. I feel lucky to have been able to participate! It will make me a better teacher and my students more successful!"
"I really enjoyed this workshop. I can use lots of the structures learned in various areas of my curriculum - comprehension, fluency, vocabulary, work study..."
"Wonderful ideas for long-term vocabulary retention and building a cooperative learning environment."
More Reviews…
---
"The content was AWESOME! I have learned a lot of new techniques to use in my classroom with new vocabulary."
"This was by far the best, most meaningful workshop I have attended. Very much appreciated the numerous and relevant material and take-aways."
"Was very explanatory—the content can be easily modified to meet each child whether it be kindergarten to 12th grade. This vocabulary workshop is a MUST for all educators."
"I learned a lot about different ways to teach and enhance students' understanding and use of vocabulary using research-based strategies."
For More Info