Growth Mindset,

Days 1 & 2
Structuring for Resilience!
July 15–16, 2023
in Orlando, Florida
(For Educators of Grades K-12)
Workshop #36188
Students with a "growth mindset" persist in the face of setbacks. They are resilient. The result: higher achievement, greater optimism, and greater life success. The good news: We can foster a growth mindset as we teach, without taking time off our regular curriculum! Using Kagan Structures and other proven strategies, we provide our students a small shift in mentality that makes a huge change in attitudes and behaviors. Adopting an empowering mindset shapes the lives of our students in class and beyond. Learn to shed the "fixed mindset" for yourself and for your students. Learn why simply praising effort can be a growth mindset trap. Join us to release the power of a Growth Mindset.
Workshop Highlights
Master Kagan Structures for Growth Mindset
Learn why praising effort is not enough
Foster resilience with a dozen tools
Teach your students Growth Mindset self-talk
Create a Growth Mindset classroom environment
Teach students to dispute pessimism with the 3 P's
Marry Growth Mindset and learned optimism
Avoid the false Growth Mindset trap
Bonus Materials
In addition, receive the following materials at a discount (available only to participants of this workshop) by ordering the Bonus Materials package at the same time that you register for this workshop:
Regular price $128 . Your price: $99. Save $29! and get free shipping!
Ordering by phone or fax? Use product code: CGMS2B
Rave Reviews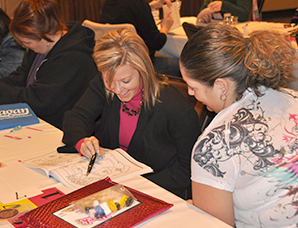 "Loved this workshop! I feel confident going back to my classroom including more Kagan Structures."
"Great Content! I feel like I learned a lot and have many ideas & structures to add to my toolbox."
"The content was extremely useful. I CANNOT wait to teach and use these structures in the coming year."
More Reviews…
---
"I was new to Kagan, but left feeling I had a toolbox that is going to help me build a safe environment where all of my students will be involved, engaged, and learning."
"Found the content to be eye-opening and very informative. Really changed the way I perceive and view class activities. I plan to use these structures."
For More Info