Secondary Science Success,

Days 1 & 2
Kagan Structures to Engage Class and Labs!
July 15–16, 2023
in Orlando, Florida
(For Educators of Grades 6-12)
Workshop #36186
If you teach Biology, Chemistry, Physics, Earth Science, or Physical Science, this is your dream workshop. Infuse your everyday curriculum with meaning and excitement. Amplify student learning with Kagan Structures. The day of the lone scientist is over! Align your science instruction with the future: teach with successful teamwork. Avoid the pitfalls of group work—implement true research-based, proven cooperative learning. Make your science classes hands-on, minds-on, active learning explorations. Learn how to set up your science labs so everyone is engaged and some students don't take over! Awaken students' natural curiosity and let them discover the scientist within.
Workshop Highlights
Use successful teamwork for experiments, investigations, and projects
Experience how Kagan Structures work using secondary science curriculum examples
Learn a range of structures for achieving different science objectives
Delve deeper by pushing students to explain and defend their thinking and conclusions
Unleash the power of peer modeling and coaching for science learning
Create a high degree of excitement and interaction over your science curriculum
Structure learning so every student has an important part to play and stays engaged
Bonus Materials
In addition, receive the following materials at a discount (available only to participants of this workshop) by ordering the Bonus Materials package at the same time that you register for this workshop:
Regular price $115 . Your price: $92. Save $23! and get free shipping!
Ordering by phone or fax? Use product code: CSC2B
Rave Reviews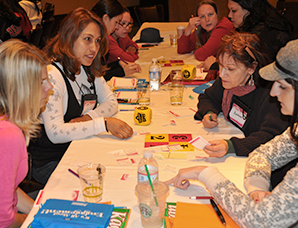 "Thank you for hosting a 'secondary science' workshop. So many times I sit in a workshop that does not apply to what I teach. So refreshing to have a science focus."
"This was a very fun professional development activity. The content I learned here will make an immediate impact on my classroom and teaching style."
"The content was great and so relevant to today's science classroom, no matter the subject or grade!"
For More Info