Elementary Literacy,

Days 1 & 2
Skyrocket Skills with Kagan Structures!
July 11–12, 2023
in Orlando, Florida
(For Educators of Grades K-5)
Workshop #36182
Skyrocket your students' literacy skills with Kagan Structures! Come learn simple cooperative instructional strategies that make the Common Core English Language Arts Standards come to life. Develop students' speaking and listening skills as they engage in a range of collaborative discussions. Ensure gains for every student with structures where everyone must fully participate. Increase students' opportunities to present knowledge and ideas with pair and teamwork. More interaction in groups means more practice and more learning. Learn structures to improve critical reading skills for informational texts and literature. Your students will read in pairs and teams, draw inferences, explain events, and determine the main ideas. Improve student writing with peer writing and editing strategies. Use quizzing and coaching structures for students to practice the conventions of English and acquire vocabulary. Make the standards come to life with engaging whole-class, pair, and teamwork structures.
Workshop Highlights
Develop thinking and understanding as students explain their own ideas
Learn a range of metacognitive strategies to engage students throughout reading lessons
Boost vocabulary word knowledge with quizzing structures
Encourage daily interactions with classmates and teammates to develop speaking and listening skills
Practice the conventions of English with coaching structures
Use pairs and teams to have students participate effectively in a range of conversations
Ensure all students contribute to discussions with turn-taking structures
Bonus Materials
In addition, receive the following materials at a discount (available only to participants of this workshop) by ordering the Bonus Materials package at the same time that you register for this workshop:
Regular price $177 . Your price: $119. Save $58! and get free shipping!
Ordering by phone or fax? Use product code: COLIT2B
Rave Reviews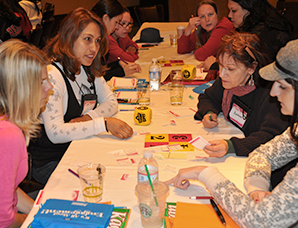 "How to use the structures in literacy was helpful. It was helpful to see how the structures are used throughout a lesson."
"Literacy ideas were fantastic. I am leaving with knowledge of various structures and so many ways to implement in my curriculum."
"Spot on! I will be able to use all the information immediately as it relates to my curriculum. I feel lucky to have been able to participate! It will make me a better teacher and my students more successful!"
More Reviews…
---
"I got so many ideas of how to engage students and plan lessons aligned with common core."
"All the information was extremely helpful and appropriate! Love, love, love the engagement! Can't wait to implement."
"Loved the content! There was so much that was given that will directly affect my teaching and classroom now! I can't wait to use all the new information. You can't always say that about professional development."
For More Info