Instructional Leadership Academy,

Institute
Implement Systems to Impact Student Engagement!
July 10–14, 2023
in Orlando, Florida
(For Educators of Grades K-12)
Workshop #36176
The demands of leadership are more challenging in this era than at any time in our past. Today's leaders are still expected to fulfill traditional job responsibilities (e.g., managing facilities, overseeing budgets, dealing with the public). However, new pressures now face instructional leaders as they strive to close the achievement gap that exists in schools across the country. This five-day institute has been created for leaders who have embraced the challenge of engaging ALL students. Explore qualities and skills sets of effective leadership. Gain a broader and deeper understanding of the basic principles of cooperative learning. Learn tools that can be used to systematically lead a school or district toward increasing achievement of all children. Topics that will be addressed during the course of the academy include the following: implementation rubrics, Structure-A-Month Clubs, walk-through observations, parent education, formal support systems, policy development, lesson planning, and barriers to implementation. Training staff members is a necessary first step. However, implementing systemic measures to ensure teachers successfully implement training in the classroom is critical to school improvement. Learn how to lead your staff so that engagement of all students becomes a reality.
Required Pre-requisites:
Minimum first 2 days of Kagan Cooperative Learning prior to March 2023
Workshop Highlights
Explore various "systems" needed to provide an infrastructure of support for implementation
Reflect on leadership principles that lead to student achievement
Walk away with tools you can use to enhance implementation efforts
Delve deeper into issues that impact student engagement
Dialogue and network with leaders who are seeking to make every child active in the classroom
Know what to look for when analyzing student engagement in the classroom
Become an instructional leader, ready to support your staff on their journey toward engagement of all students
Bonus Materials
In addition, receive the following materials at a discount (available only to participants of this workshop) by ordering the Bonus Materials package at the same time that you register for this workshop:
Regular price $175 . Your price: $139. Save $36! and get free shipping!
Ordering by phone or fax? Use product code: CILA5A
Rave Reviews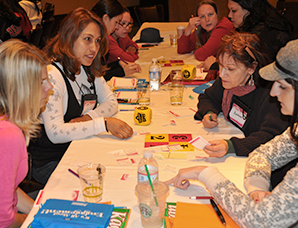 "Simply amazing! New ways of thinking that will help my district in a new direction for staff and students."
"So relevant! Game changer."
"Insightful, practical, and important. One of the best workshops I have ever attended."
More Reviews…
---
"This has been a game changer for me. This is exactly what I needed—an authentic focus."
For More Info