The Dynamic Trainer,

Institute
Turbocharge Your Presentations!
July 10–14, 2023
in Orlando, Florida
(For Educators of Grades K-12)
Workshop #36175
Why has Laurie Kagan's Dynamic Trainer course become among the most popular courses ever offered by Kagan? Educational and business trainers rave about this fresh, dynamic approach to training adults. Must-know training concepts and techniques are interwoven with Kagan Structures to create unforgettable trainings every time. Come expecting to be physically engaged and mentally stimulated throughout this high-powered session. Regardless of what you train, this institute will empower you to create dynamic presentations based on multiple intelligences, brain compatible learning, and cooperative learning. Your participants will have more fun, learn more, and remember more of what you have to share. If you're a professional trainer, come sharpen your skills. If you're an aspiring trainer, come learn the tricks of the trade.
Workshop Info
Location
Hilton Orlando Lake Buena Vista
1751 Hotel Plaza Blvd
Orlando, Florida 32830-8430
Date and Time
July 10–14, 2023
Check In: Monday 8:00am - 8:30am
Time:
M, Tu, Th, Fri 8:30am- 4:00pm
Wed 8:30am-1:00pm

Workshop #
36175

Workshop Highlights
Get your training off to the right start
Learn how to manage for success and handle difficult adults
Be the best trainer you can be
Use red-hot reviews to make learning stick
Discover the tips and tricks of successful trainers
Capture attention and keep your audience riveted throughout
Wrap it up right with wonderful wraps
Bonus Materials
In addition, receive the following materials at a discount (available only to participants of this workshop) by ordering the Bonus Materials package at the same time that you register for this workshop:
Regular price $393 . Your price: $289. Save $104! and get free shipping!
Ordering by phone or fax? Use product code: CDT5D
Rave Reviews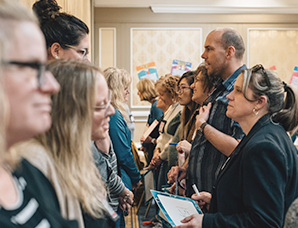 "Contains a multitude of ideas, strategies, and concepts that will be greatly beneficial to empowering my instructional qualities as a trainer for my district."
"This was an amazing training with so many strategies and structures that I see myself infusing into my workshops with teachers."
"This session was very informative! I learned something new within the first 10 minutes and continued to learn throughout the entire session."
More Reviews…
---
"WOW! I loved the materials! What an awesome binder! I thought I knew a lot about presenting, but I learned that I have so much more to learn by attending this workshop."
"The content helped me answer some of my most difficult challenges as a trainer: Like 'Keep it Simple,' use lots of processing, simple endings and much more. Simple solutions to big problems."
"A co-worker attended a trade show presentation Laurie presented. She came back raving about it and her and I attended the 1-day training in Tampa Bay, FL. I was hooked and knew I wanted to attend the 5-day. Since the 1-day training 2 years ago my role changed to include our internal corporate training and I've started consulting on the side. This workshop has greatly benefited me in all aspects of my professional career. Thank you!"
For More Info