Kagan Coaching,

Days 1 & 2
A Revolutionary Approach to Ensure Implementation!
September 20–21, 2022
in Elizabethtown, Kentucky
(For Educators of Grades K-12)
Support your teachers as they implement Kagan Structures in their own classrooms. This workshop is designed for administrators, staff trainers, mentors, and site-level leaders. You'll learn Kagan's breakthrough approach to coaching. Through working with thousands of teachers, Kagan has developed a revolutionary coaching method that transforms the implementation of Cooperative Learning Structures and boosts student outcomes. Rather than giving feedback out of context after a lesson, Kagan Coaching offers specific and immediate feedback as teachers teach. Boost teacher accountability and the fidelity of implementation with this safe and supportive approach to coaching. Note: Kagan Coaching is not permitted for service centers or for-profit coaching.
Required Pre-requisites:
Kagan Structures Level I completed at least six months prior
Workshop Info
Location
Elizabethtown Board Of Education
219 Helm St
Elizabethtown, Kentucky 42701-1511
Date and Time
September 20–21, 2022
Check In: 8:00am
Time: 8:30am - 3:30pm

Workshop #
34683

Workshop Highlights
Review structure steps and key coaching tips for each structure
Learn strategies to support teachers "in-the-moment"
Explore key steps to providing quality feedback
Compare Kagan coaching with traditional coaching models
Practice coaching in a safe environment
Support teachers throughout various stages of implementation
Identify ways to support lesson planning
Learn the five steps to successful implementation
Rave Reviews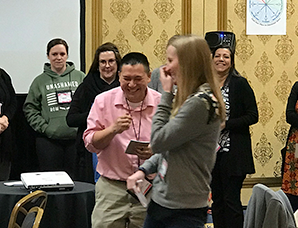 "Great! Just what I was looking for. Loved the role playing section. It was great practice and I love to see the structures modeled as well. Loved it! I feel well prepared to bring this back to my staff!"
"Very relevant and effective. I couldn't have coached effectively without this training."
"Kagan Coaching is a vital part of Kagan. As an administrator this helps me understand the big picture and shape our district vision. Excited for the next steps."
For More Info