Accelerating Achievement,

Day 1
Boost Test Scores with Active Engagement!
September 10, 2022
in Corcoran, California
Based on years of experimentation and field-testing, Dr. Spencer Kagan has perfected simple instructional strategies and structures that dramatically increase the achievement of all students, especially low-achieving and low-ability pupils. In this active workshop, you will experience these strategies, derive the rationale, and learn ways to adapt them to your own classroom. They have two proven outcomes: Excellence and Equity. The Kagan Structures not only boost achievement for all students (increased excellence), they decrease the gap between low-and high-achieving students (increased equity). The strategies lift up the lows while accelerating the achievement of all students. Come learn how to apply these easy-to-learn, easy-to-use instructional strategies in any lesson, at any grade level.
Workshop Info
Location
Technology Learning Center
1101 Dairy Ave
Corcoran, California 93212-2503
Date and Time
Sat, September 10, 2022
Check In: 8:00am
Time: 8:30am - 3:45pm

Workshop #
33874

Workshop Highlights
Boost test scores with an approach that is backed by scientific studies and loved by teachers
Experience easy-to-implement, research-based cooperative instructional strategies
Accelerate content knowledge with structures for mastery and retention
Watch all students excel, especially lower achievers
Engage all students with strategies that encourage participation by each student
Give every student a circle of peer encouragement, support, and tutoring
Master new structures designed to address the five dimensions of accelerating achievement
Free Kagan Materials
With your attendance, you will receive:
Bonus Materials
In addition, receive the following materials at a discount (available only to participants of this workshop) by ordering the Bonus Materials package at the same time that you register for this workshop:
Regular price $91 . Your price: $67. Save $24! and get free shipping!
Ordering by phone or fax? Use product code: CAA1
Rave Reviews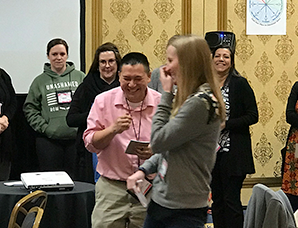 "The content was amazing. Very eye-opening. I was given 20 different ways to engage my students for achievement success."
"Awesome content! I cannot wait to turn the group work I've been doing into interactive, productive cooperative learning. Thank you for a worthwhile professional development that will benefit us as teachers/educators and most importantly help close the achievement gap for our sweet students."
"The content was outstanding. I came away feeling that I will be able to raise student achievement while promoting an environment that is respectful and safe."
Read more...
---
"I think I can really make a difference in my students' achievement by using Kagan Structures. I'm excited to be able to take back so many strategies I can use."
"Excellent. I need these strategies for my students. I work in a low-achieving school and district, and students are not motivated unless I do something to help them succeed.""
"Kagan gives me hope going into my 2nd year as a teacher that this year will be MUCH better than the last. I learned so much stuff that I can't wait to implement. It will help student achievement but will also help with my class management."
"Excellent. All the structures were clearly designed to support academic excellence."
For More Info