Elementary Science,

Days 1 & 2
Total Engagement with Kagan Structures!
June 6–7, 2022
in Phoenix, Arizona
(For Educators of Grades K-5)
Make your curriculum come alive as your students acquire science knowledge and skills by manipulating, exploring, and experimenting with real objects. This hands-on workshop teaches process-oriented teamwork aligned with the science standards. We discover ways to teach the key process skills. We develop the exploration of questions and critical thought by using a range of Kagan Structures. Science is a verb, not a noun. Students must do science in order to learn the skills needed in today's technologically advanced world. More importantly, students must do science together! Scientists do not work in isolation. Students learn science content in meaningful ways together. As our students do science, we teach the attitudes, skills, and ways of thinking core to the standards. Through Kagan Structures we release and channel student curiosity, creating life-long learners with a love for science.
Workshop Info
Location
TBD
Phoenix, Arizona
Date and Time
June 6–7, 2022
Check In: 8:00am
Time: 8:30am - 3:45pm

Workshop #
33469

Workshop Highlights
Encourage science verbalization through highly interactive structures
Make science a hands-on experience
Use successful teamwork for experiments, investigations, and projects
Incorporate red-hot reviews to make science learning stick
Delve deeper by pushing students to explain and defend their thinking and conclusions
Achieve gains for all with strategies that ensure full participation by all
Have teams ask and answer meaningful questions to boost understanding
Increase active participation with a high level of engagement in each team
Watch the Video
Free Kagan Materials
With your attendance, you will receive:
Bonus Materials
In addition, receive the following materials at a discount (available only to participants of this workshop) by ordering the Bonus Materials package at the same time that you register for this workshop:
Regular price $104 . Your price: $84. Save $20! and get free shipping!
Ordering by phone or fax? Use product code: CES2
Rave Reviews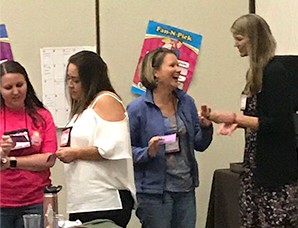 "Great content based on how to encourage and develop collaborative learning in science."
"Cooperative Learning in Science is so much different than group science!! An eye opener on new ways to deliver science instruction more efficiently."
"Excellent – hands on activities were well developed for this two day workshop."
Read more...
---
"Thank you for sharing this with all of us! I believe implementing these amazing structures, principles, classbuilding, teambuilding teams, management and social skill tools will change the lives of children all over the world as well as those who teach them. Thank you so much!"
"Well worth coming to! Teaches content along with a variety of teambuilding, classbuilding, functional skills that adults and children need."
"While I know that creating a safe classroom that feels like a family environment is important I have not always created this environment because I did not feel that we could do non-academic teambuilding. I'm excited to do this now!"
For More Info