Emotion-Friendly Teaching,

Days 1 & 2
Accelerating Social-Emotional Learning (SEL)!
July 30–31, 2020
in Albuquerque, New Mexico
Sorry, this event has been CANCELLED!
Make your classroom more emotion-friendly! The emotion-friendly classroom is a far more effective approach for reaching the five goals of Social-Emotional Learning. Instead of learning about positive social and emotional behaviors, students acquire these skills as part of every lesson. With emotion-friendly teaching, students have a greater understanding of their own emotions, become more skilled controlling their impulses, are better at motivating themselves, become more empathetic, and improve their social skills and relations as they interact over the regular academic curriculum—no separate lessons are required. Explore Dr. Kagan's Emotion Wheel, a visual tool to help students understand and take control of their own emotions. Harness the power of student emotions to improve every aspect of your classroom from academic success, to class management, to improved student relations.
Coronavirus Important Note
This workshop is open for registration. However, due to the fluid nature of the current situation, we are closely monitoring each workshop. If cancelled or rescheduled, Kagan will notify you of your options as soon as possible.
For questions about your existing registration, to email a registration PO, or to request a refund, please email:
registration@KaganOnline.com
.
Register Here
Sorry, this event has been cancelled.
Workshop Highlights
Radically reduce disruptive behavior, bullying, and violence
Promote relationship skills and empathy for others
Learn how to leverage emotions to increase student self-motivation and achievement
Improve class climate and raise students' IQ by eliciting positive emotions
Teach students to understand and manage their emotions with the Kagan Emotion Wheel
Free Kagan Materials
With your attendance, you will receive:
Bonus Materials
In addition, receive the following materials at a discount (available only to participants of this workshop) by ordering the Bonus Materials package at the same time that you register for this workshop:
Rave Reviews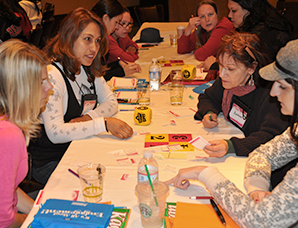 "Inspiring, motivating, supportive."
"This workshop was extremely valuable. The connection with EQ and success in the classroom and in life is powerful."
"I'm always impressed when such highly intelligent people can deliver complex information in a way anyone can comprehend."
Read more...
---
"Super powerful information that I wish I had learned years ago when I was in college preparing to become a teacher."
For More Info
This event has been cancelled, but you can always speak to a Kagan representative: 800-266-7576 (reference event number #31068).
To bring Kagan to your school or district, please contact Kagan's Partnership Team at 800-451-8495 or partnerships@kaganonline.com.