Kagan Cooperative Meetings,

Days 1 & 2
Leading and Inspiring Staff!
June 10–11, 2020
in St. George, Kansas
(For Educators of Grades K-12)
Transform your staff meetings into cooperative meetings. Make them engaging, inspiring, and educational. Experience why Michael Fullan states, "Cooperative Meetings is a treasure chest of ideas, resources, and activities for staff developers and others wishing to engage in dynamic learning experiences. No other resource exists that contains such a comprehensive set of strategies to enhance learning for all." This workshop gives you the step-by-step structures to transform your faculty into a community of leaders and learners. Cooperative Meetings was field tested for fifteen years in one of the world's most acclaimed school districts, transforming staff relations and school practices. Learn collaborative decision making structures so there are never winners and losers as your staff works together for school improvement. Improve staff relations; bring out the best in your teachers. Create engagement among all staff members, releasing energy in your meetings and beyond. Make staff meetings a joyful time every teacher prizes. Join other administrators who are transforming their schools by transforming their meetings—release the power of Cooperative Meetings. Leave with inspiration and direction to create the dream school—a community of motivated, caring teachers.
Workshops Postponed
Please note that all workshops before May 1, 2020 have been canceled. Most workshops will be re-scheduled for a later date. You may register for workshops after May 1st; however, your registration will not be processed until the Kagan offices re-open. Thank you for your patience.
Workshop Info
Location
Rock Creek Schools District 323
9353 Flush Rd
St. George, Kansas 66535-9423
Date and Time
June 10–11, 2020
Check In: 8:00am
Time: 8:30am-3:45pm

Workshop #
30855

Workshop Highlights
Motivate your staff with energizing staff-building ideas
Become an instructional leader by modeling active learning in your own faculty meetings
Build positive relationships among your staff
Have fun and solve problems together with initiative tasks and games
Learn structures to make collaborative decisions and maximize teacher buy-in
Discover how to use your time wisely by what you cover and what you leave out
Build a learning community to grow together as professionals
Develop personal commitment and investment in the school
Create a shared vision with your staff and work together to make it a reality
Free Kagan Materials
With your attendance, you will receive:
Bonus Materials
In addition, receive the following materials at a discount (available only to participants of this workshop) by ordering the Bonus Materials package at the same time that you register for this workshop:
Regular price $275 . Your price: $219. Save $56! and get free shipping!
Ordering by phone or fax? Use product code: CCM2E
Rave Reviews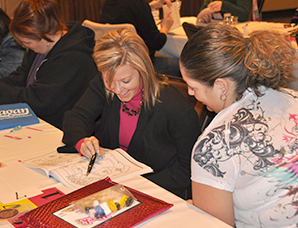 "Kagan Structures totally changed my classroom for the better and I am hoping to lead change in our district with the community meeting structures."
"The information will be very useful in me changing how my faculty and staff interact to share information, train, and make decisions. Building a team and culture is very important."
"Outstanding! I can go back to my school feeling confident and ready to tackle any problems in our school. Kagan Structures are #1 in my book!"
Read more...
---
"Very helpful ideas and ways to focus and create meetings that will give results in a positive manner. It gave me a direction of where to go."
"I appreciated the administrative focus and the 'real world' application and examples."
"Very relevant to giving me (principal) tools to expand the use of structures in faculty setting to model what is important."
"Today we had our kickoff with our teachers and rolled out the PLC philosophy to our staff embedded with several relationship building activities and numerous structures to allow the teachers to be engaged and to process the information. At the end of the day, my Assistant Principal got several comments from staff that this was the best kickoff they have had and that they loved the engagement and time to process and reflect that the structures provided. Carol L. was right! Cooperative Meetings training has changed the way our school does business. Your training at the Summer Academy was exceptional and I thank you for giving me these tools to engage my staff."
"I have just finished the second day of preschool week with my teachers and I could not let another minute go by without sending you an email to let you know that Cooperative Meetings are LIFE CHANGING!! Being a part of your training at Summer Academy and taking my learning back and implementing Cooperative Meetings has been transformational. Even though it has only been two days, the relationship building that my teachers have done with one another is AMAZING. I am hearing laughter, seeing smiles, and watching lightbulbs go on all across the room. It is so cool to see people sitting in cooperative teams with people that they have never worked with before. Even more rewarding is the opportunity to model structures and then lead teachers in reflection about how they can implement these same activities in their own classrooms with their own students. Thank you, thank you, thank you for giving me the confidence and skills necessary to not only transform my own teaching, but to positively influence the teaching of some already amazing educators who are ready to take it to the next level!"
For More Info