Win-Win Discipline,

Day 1
Strategies to End Every Disruption!
July 31, 2020
in Little Elm, Texas
Sorry, this event has been CANCELLED!
Create discipline solutions where you win and your students win. Gain a new perspective on discipline problems and come away with tools that really work. Convert every disruption into a learning opportunity. Go beyond ending disruptions—teach responsible behaviors and life skills. In this Win-Win Discipline workshop, you'll get what you need for implementing this successful discipline program: identify the four types of disruptive behavior, recognize the seven positions from which they spring, and know what to do in the moment-of-disruption. Learn to follow-up and to prevent future disruptions. Experience the power of the most comprehensive approach to discipline ever created.
Coronavirus Important Note
This workshop is open for registration. However, due to the fluid nature of the current situation, we are closely monitoring each workshop. If cancelled or rescheduled, Kagan will notify you of your options as soon as possible.
For questions about your existing registration, to email a registration PO, or to request a refund, please email:
registration@KaganOnline.com
.
Register Here
Sorry, this event has been cancelled.
Workshop Highlights
Boost your confidence in handling all types of disruptions you face
Understand why your students misbehave and what to do about it
Promote responsible behavior in your classroom
Deal appropriately with aggression, confrontations, rule breaking, withdrawal, and clowning
Channel your overly energetic students' disruptive behavior into productive learning
Adopt preventative discipline strategies that address problems before they happen
Create a safe, comfortable classroom focused on learning, not discipline
Free Kagan Materials
With your attendance, you will receive:
Bonus Materials
In addition, receive the following materials at a discount (available only to participants of this workshop) by ordering the Bonus Materials package at the same time that you register for this workshop:
Rave Reviews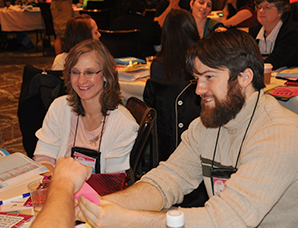 "We learned many different structures for active engagement and classroom discipline—how to help kids stay on track by stimulating their young minds and molding them into successful and productive members of society."
"This is the best workshop I've ever been to. The practical application is overwhelming, and I love using it. It made my wallflowers bloom and my discipline problems flee."
"Win-Win has applicable ideas that are able to be used immediately. This makes sense! I learned a lot this week that will help my whole staff with management and discipline."
Read more...
---
"The content was very valuable. As a first year teacher, this week has given me confidence in my ability to engage my students and some excellent ideas for managing my classroom. Win-Win Discipline has provided me with several tools to help my students."
"Win-Win is so applicable to the classroom and will transform how I will forever treat management. Kagan has strengthened my passion for teaching."
"Excellent analysis of student behavior. This is insightful for a principal, for my own techniques/strategies, as well as supporting teachers with their discipline."
"Excellent strategies in instructing lifelong responsibility to all students. Sharing with each other was invaluable. Teachers helping teachers—what a powerful way to learn! It is important to see the positive side of discipline and Win-Win does just that!"
"Wonderful. I have a few discipline issues, and this is going to be great to implement."
"Win-Win Discipline is very useful and well explained. I have an excellent resource to use on a daily basis in my class. The steps are practical and easy to understand and follow."
For More Info
This event has been cancelled, but you can always speak to a Kagan representative: 800-266-7576 (reference event number #30305).
To bring Kagan to your school or district, please contact Kagan's Partnership Team at 800-451-8495 or partnerships@kaganonline.com.