Presented by Dr. Spencer Kagan!
Emotion-Friendly Teaching,

Days 1 & 2
Accelerating Social-Emotional Learning (SEL)!
April 13–14, 2020
in Salem, Oregon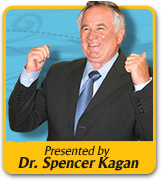 Dr. Spencer Kagan has just completed his newest book: Emotion-Friendly Teaching. In this high intensity workshop, Dr. Kagan leads you through the two sides of emotion-friendly teaching: 1) Eliciting the ten positive emotions, and 2) Teaching students to know and manage their emotions. You receive the powerful Kagan Emotion Wheel that allows students to locate themselves and move in emotional space. You will use the emotion wheel to foster the four dimensions of emotional intelligence: Self-Knowledge, Self-Control, Self-Motivation, and Empathy. Using the emotion wheel, students are empowered. They are no longer controlled by their emotions; they know their emotions and know how to move to more positive states. By the way, understanding the emotion wheel empowers teachers to better know their students, their significant others, and themselves!
As an Emotion-Friendly Teacher, You Will:
Strengthen Memory
Increase Motivation
Amplify Relevance
Enhance Meaning
Raise Test Scores
Improve Thinking
Broaden Perception
Boost Problem Solving
Expand Creativity
Elevate IQ + EQ!
Free Book and Poster!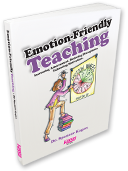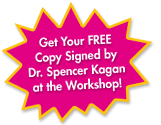 Emotion-Friendly Teaching
Accelerating Social-Emotonal Learning (SEL)!
Dr. Spencer Kagan
Spencer has done it again! He's written another must-have reference for all educators. Dr. Kagan has translated the enormous field of theory and research on emotions into a practical guide any teacher can use to make their teaching more emotion-friendly. Not only does he review the extensive research on how eliciting positive emotions boosts student achievement, Spencer provides plenty of do's and don'ts, ready-to-use student activities, and simple tips to put students in the optimal emotional states for learning. Dr. Kagan introduces us to the Emotion Wheel, a student-friendly way to help our students understand and manage their own emotions. We not only learn why EQ can be more important than IQ to students' success, Dr. Kagan provides a practical guide to developing the facets of EQ, including student self-knowledge, self-control, motivation, and empathy. And last, but definitely not least, you learn how to evoke emotion when you teach to make learning more meaningful and memorable. This book is your blueprint for creating the emotion-friendly classroom. 440 pages. Click here to learn more.
Workshop Info
Location
Willamette Education Service District
2611 Pringle Road Southeast
Salem, Oregon 97302
Date and Time
April 13–14, 2020
Check In: 8:00am
Time: 8:30am-3:45pm

Workshop #
29951

Bonus Materials
In addition, receive the following materials at a discount (available only to participants of this workshop) by ordering the Bonus Materials package at the same time that you register for this workshop:
Regular price $65 . Your price: $54. Save $11! and get free shipping!
Ordering by phone or fax? Use product code: CEFT1
Rave Reviews
"I'm always impressed when such highly intelligent people can deliver complex information in a way anyone can comprehend."
"Super powerful information that I wish I had learned years ago when I was in college preparing to become a teacher."
"Inspiring, motivating, supportive."
Read more...
---
"This workshop was extremely valuable. The connection with EQ and success in the classroom and in life is powerful."
For More Info